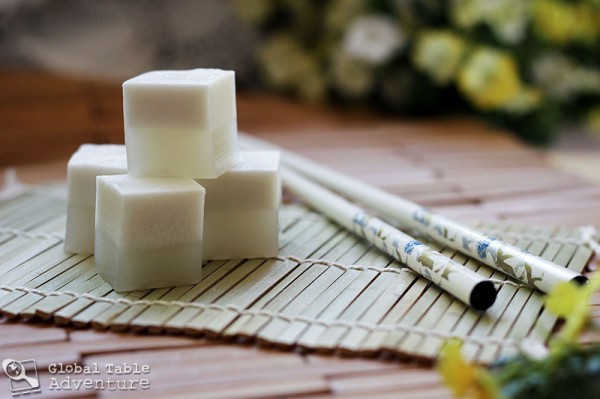 Let's just call this the dessert of indecision. My mom likes to say that doing the right thing is as "clear as day." But here's the thing: some problems are confusing. Even after an all night stresser, I can't figure everything out. Am I capable of writing a book? Should I wear heels to a picnic wedding? Is it better to help an old lady cross the street, or maybe I should just drive her wherever she needs to go?
For every question, part of the solution is clear, but generally there's a murky area, filled with unknowns.
For example, will my book be a book about food, babies, or … astrophysics? Will the ground be hard at the picnic wedding? If so, great, but then.. are my heels unwearable, covered with cobwebs, from years of neglect? Does the old lady even need my help? Why do I assume she does? What does that say about me?
Variables make everything more confusing. When this happens, only time will tell what the right answer is, like clarity revealing itself in murky waters…. or, as in this case, in Coconut Jelly.
This is the perfect treat for such indecision; you'll find it throughout Myanmar. Made with little more than coconut milk, water, sugar, and agar agar, the jello-like dessert sets up firmly, separating into two layers. If you don't disturb the mixture while it's setting, the layers will be 50/50 clear/opaque, which is very cute. If, however, you spend 15 minutes furiously whisking the mixture in an an attempt to capture photos of steam.. well… it won't separate quite as well.
Oh, the lessons I learn in the name of photography.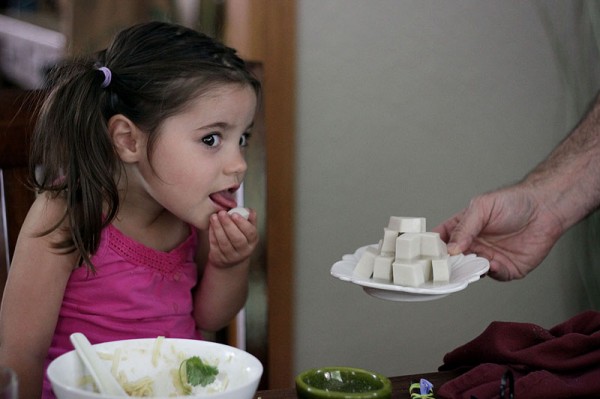 But murky, or clear, the dessert is still tasty!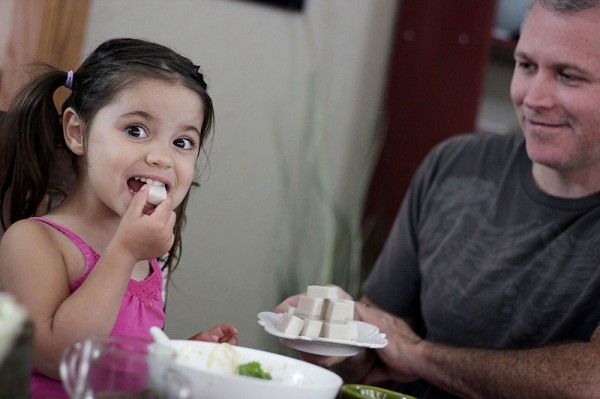 As an added bonus, Coconut Jelly sets up at room temperature, since it's traditionally thickened with agar agar instead of gelatin. This makes the dessert a great option not only for street food vendors, but parties & potlucks where you don't want to mess with refrigeration. You can find this vegan seaweed thickener in the Asian aisle of your supermarket. It looks like tiny, delicate, ever-so-sparkly crystals.
So pretty.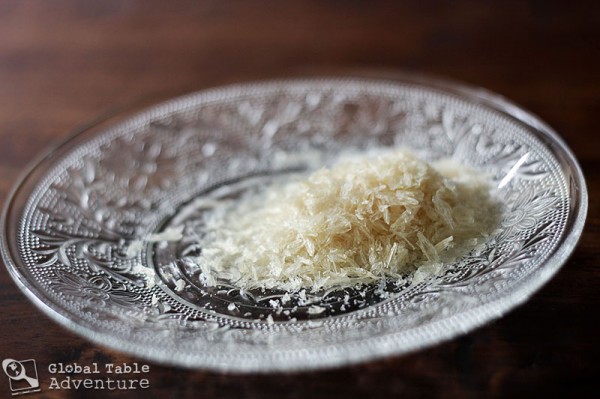 So, whip some up, watch it set up on your counter and have a smile!
Here's hoping Coconut Jelly helps you "cross that river" when you come to it.
Serves 4
Ingredients:
1/4 cup agar agar flakes
1 3/4 cups coconut milk (1 can)
2 1/4 cups water
1/2 cup sugar
pinch of salt
Method:
This is a dump-and-go recipe. There's no easier way to get to Myanmar.
First, add the sparkling agar agar…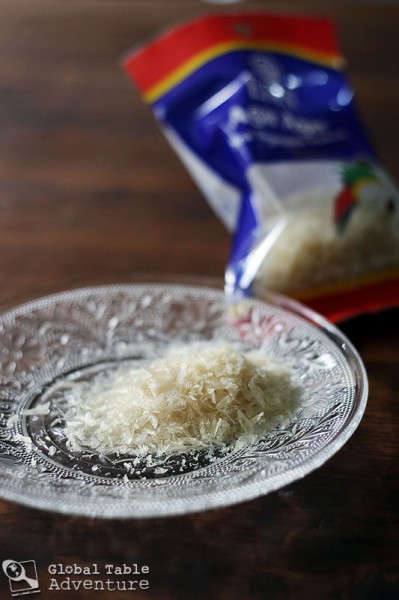 … then splash on the creamy, luscious coconut milk…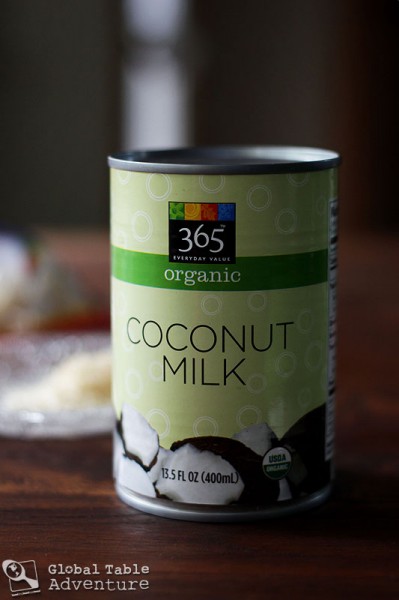 … the sweet sugar and, finally, the clear, clear water to a medium saucepan. Whisk to combine.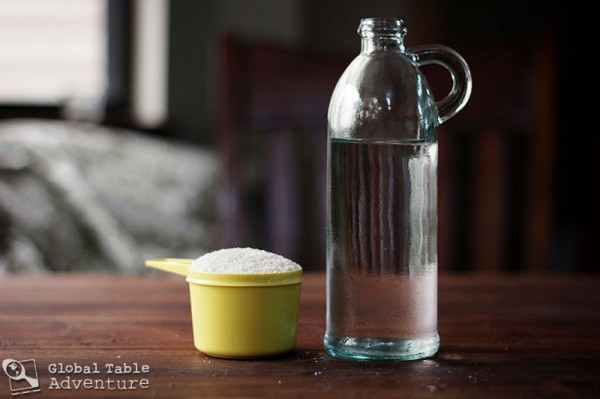 Bring to a boil, reduce heat and simmer about 15 minutes, or until sugar and agar agar dissolves completely.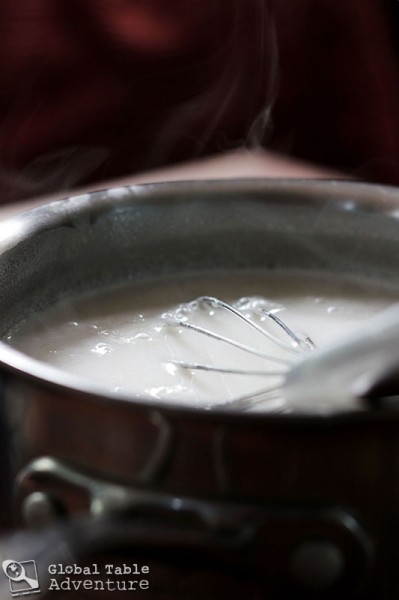 Immediately pour into an 8×8 dish or other jello molds. Want some bonus points? Pop those bubbles with a toothpick.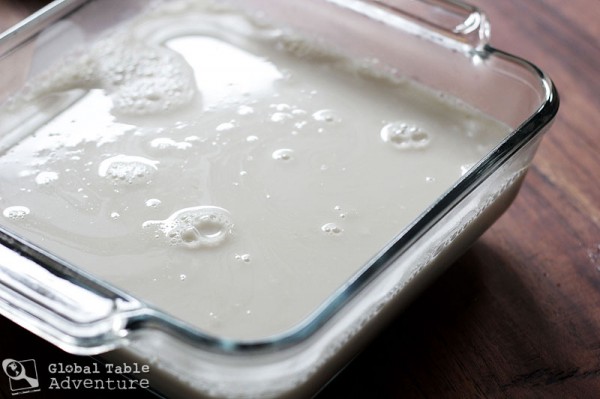 Leave on the counter and allow to separate into two distinct layers… rather like this photo:
It will begin to set almost immediately and will be done after the mixture cools. When firm to the touch, slice in cubes, strips, or triangles. The thinner the slices, the more transparent they'll be. Refrigerate after cooling.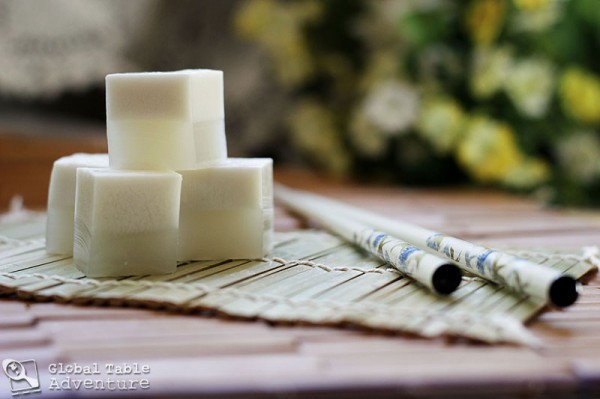 Enjoy the clarity and the confusion. Both are important parts of life. Without each of these, we can't grow.
We can't make good decisions.
Here's hoping the solution to your dilemma will become clearer after this little snack.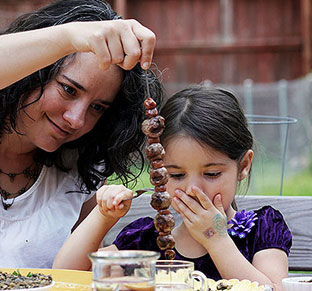 Hungry for more?
Be notified when National Geographic releases my memoir.
Simply fill in your details below.