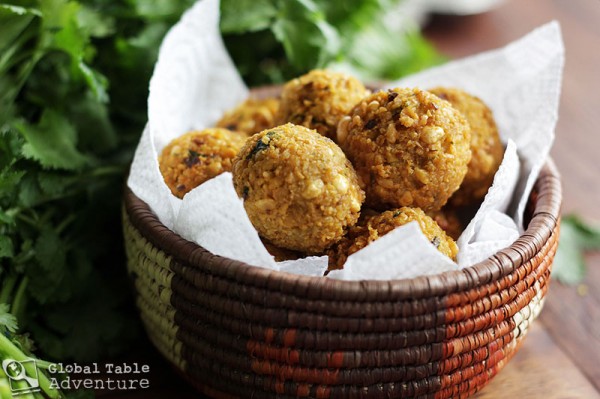 If you have a hankering for a munchin', come with me via "stove top travel" to Mauritius. While there, we'll cozy up, picnic-style, with a basket of Gateaux Piments. These crisp, crunchy poppers are quite a bit like falafel and I got to try them thanks to you, dear readers, since they won your vote on our Facebook Fan Page as the split pea recipe you'd most like me to try.
(Thank you!)
What I find most exciting about these chili poppers is their intense, fresh flavor. Each bite reveals earthy nips of cumin seed, springy green onion and cilantro sprigs, all tossed around in a golden tumeric glow.
These "gateaux piments" would taste fantastic on any salad but, if you want to be totally authentic, try them sandwiched inside a buttered baguette [recipe], perhaps while overlooking the laughing horizon.
Talk about epic comfort food.
Makes a dozen 1 1/2 inch balls
Ingredients:
1 cup yellow split peas, soaked for 4-8 hours
1/2 tsp cumin seed
3 sprigs cilantro, chopped rough
1 green onion, chopped rough
1/2 tsp turmeric
fresh chopped chili pepper, as much as you can stand (I only used 1/2 an Anaheim for "mild")
salt
Method:
I used yellow split peas and soaked them for just over 4 hours.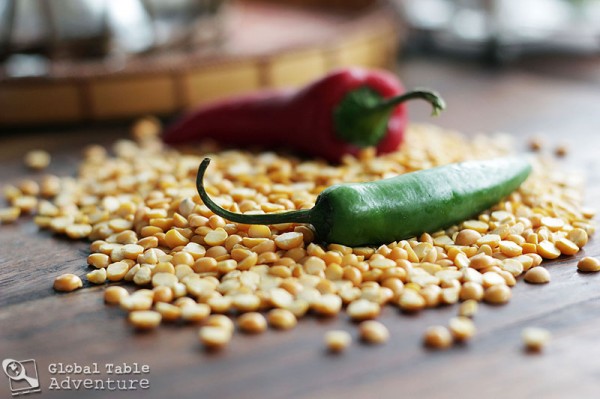 Meanwhile, I daydreamed my way to Mauritius and imagined I was smiling in a sunny landscape.
While there, I roughly chopped up my green onion and cilantro. I also minced my hot pepper.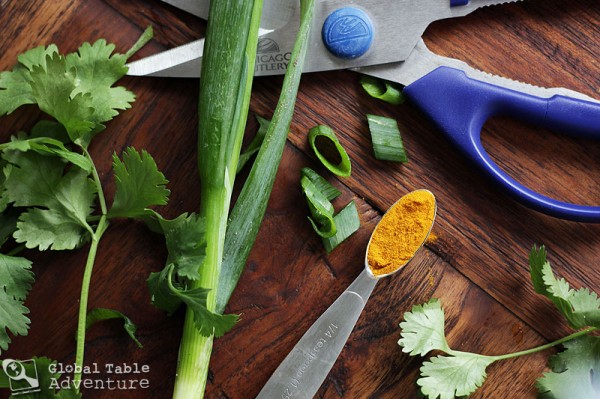 Next, I added half the split peas into a blender (or food processor) with the cumin seed (and any other ingredients you'd prefer pulverized). Pulse into a fine consistency, stopping often to scrape down the blender bowl.
(Note: I used a blender, but due to the thick consistency of this mixture, I'm thinking a food processor would be easier if you have one)
Now the fun part. Add the remaining split peas along with the  green onion, cilantro, chili pepper, turmeric, and salt. Pulse until just combined and still a bit chunky. Scrape down the sides as needed.
Breathe in the glorious goodness.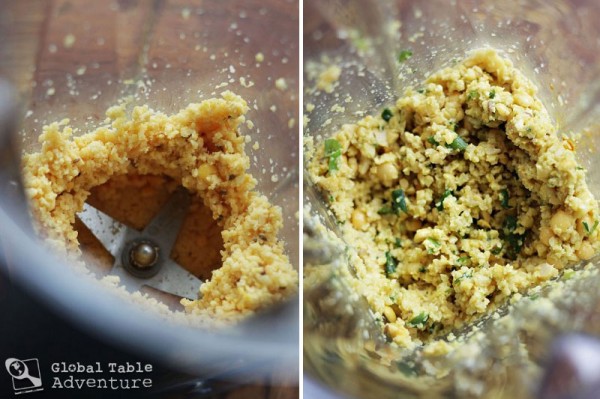 Now, let's get cookin'.
Heat up enough oil in a pot to deep fry (about 350F)
Meanwhile, shape the mixture into small balls.
Nifty Tip: Have one dirty hand, to grab the mixture out of the blender and to do the rough shaping. The other hand will be your "clean" hand and you can use it to do the final shaping. Keep a bowl of water handy to dip your "clean" hand in. This will keep the mixture from sticking to you.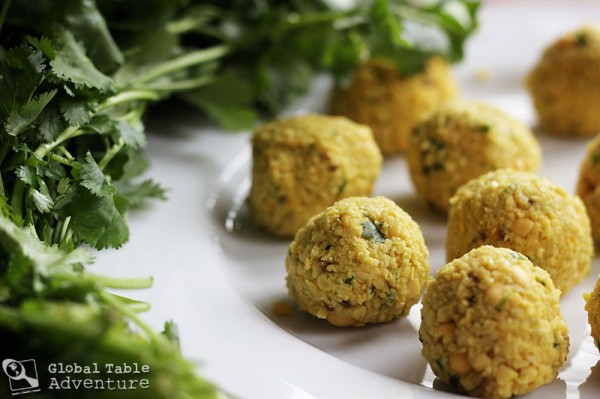 Fry in batches until golden and cooked through. This took 4-5 minutes for me, but cooking times may vary.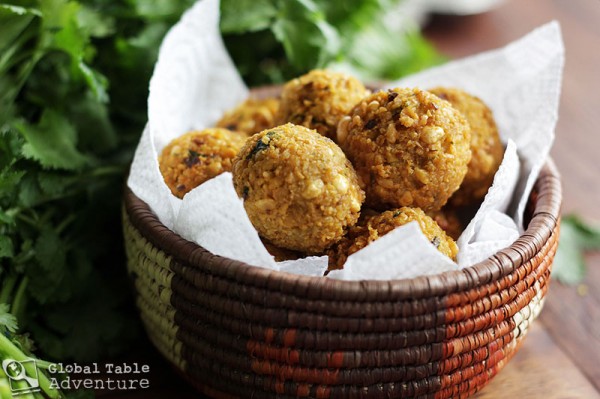 These are goooood, with or without the buttered baguette.
In fact, I could hardly wait until they were done to start munchin'.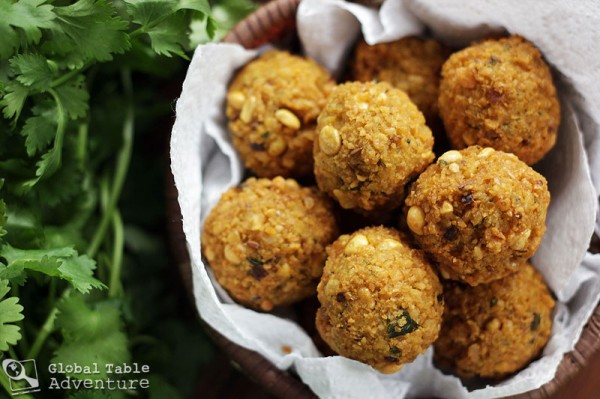 Enjoy these little glowing poppers under a brilliant glowing sun.
Have a beautiful Friday, friends…
… and a peaceful weekend.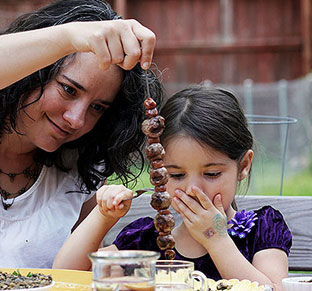 Hungry for more?
Be notified when National Geographic releases my memoir.
Simply fill in your details below.