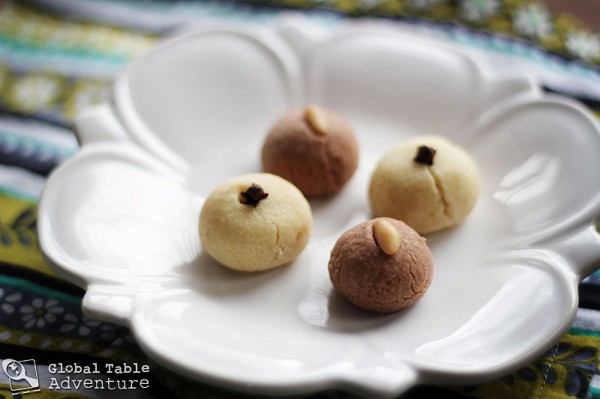 Every day should be special. A day to use fancy napkins. A day to nibble cookies with tea. A day to smile more than you did the entire year before. This cookie is for such a day. Say hello to the ghraiba, or Libya's answer to crispy, buttery shortbread. They aren't super sweet, but they have a tender crumb, perfect for teatime.
Two things make these cookies unique. First, they are made with ghee, a.k.a. cooked, clarified butter. Second, they are studded with whole cloves, which can be eaten in their entirety. The quick bake in the oven mellows the flavor enough to make the experience bearable.
I made half of the cookies plain and half of them with a hit of cocoa. Decorated with whole cloves (yes, eat the whole thing!) and pine nuts, they make for a delightful giftbox for a hostess gift. The funny thing about these cookies is that they do not spread. At all. And they cook very quickly, so plan accordingly
Makes several dozen 1 inch balls.
Ingredients:
7.5 ounces ghee, room temperature (about a cup)
1/2 cup powdered sugar, sifted
pinch salt
2 1/2 cups flour, or as needed
1 Tbsp cocoa powder
Method:
First, let's talk briefly about ghee. Ghee is butter that's been cooked on the stove until the oily-looking bits separate from the milk solids. The solids are then skimmed off and, voila, ghee!
Ghee gives the cookies fancy flavor – a bit like cooked butter. And they love it all over the Middle East and parts of Central Asia, mostly because it can be stored at room temperature for a long time without spoiling.
So there you are. Happy information for your brain.
Now, let's get started.
Cream the ghee and powdered sugar together. Ghee is available at the supermarket, usually near the regular butter.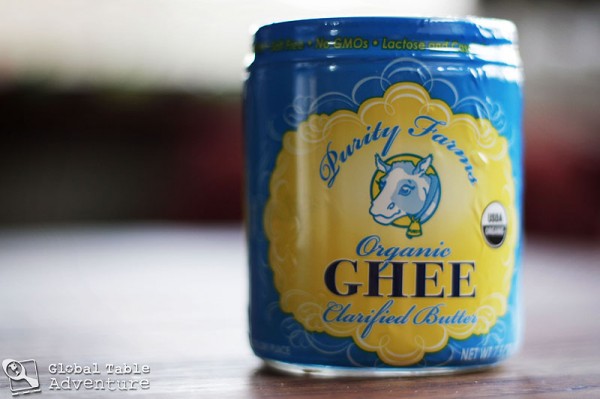 The mixture will look white and fluffy. Very similar to creamed butter. If you'd prefer a sweeter cookie, you could add more sugar and just use less flour.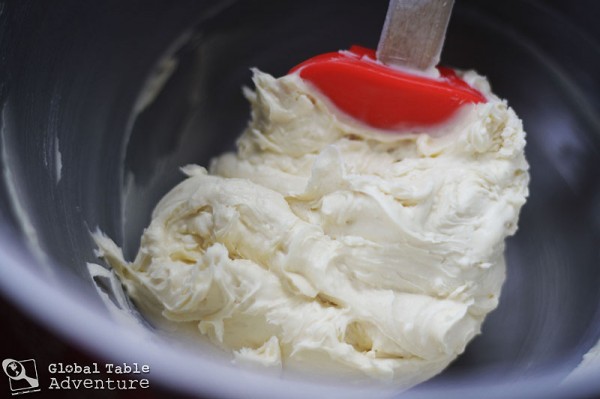 Next, add the salt and flour, 1 cup at a time, until a soft dough forms. You'll end up with a slightly sticky dough.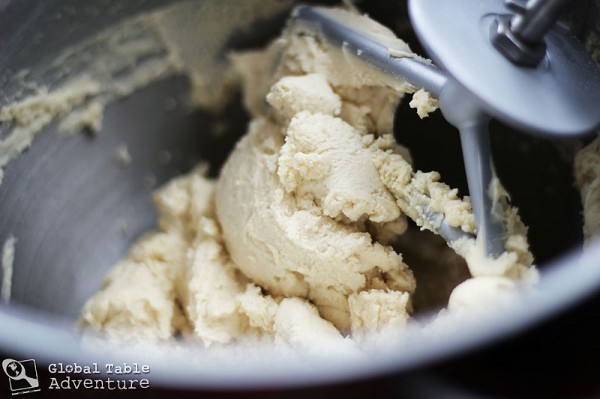 Remove half the dough for the plain cookies and add a happy sprinkling of cocoa to the remaining half.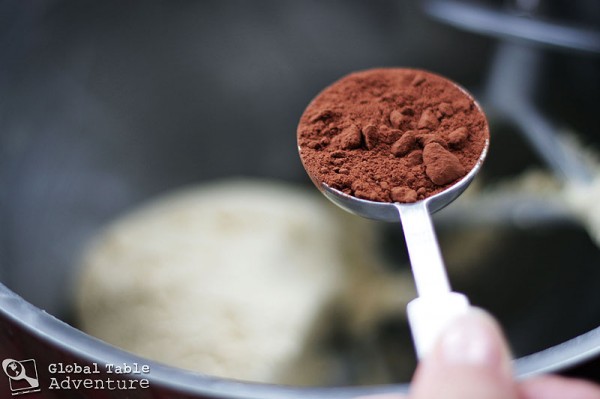 Once beaten in, the cocoa turns the dough light brown and adds delicate dark cocoa flavor. To me, it looks like chocolate ice cream. Yum.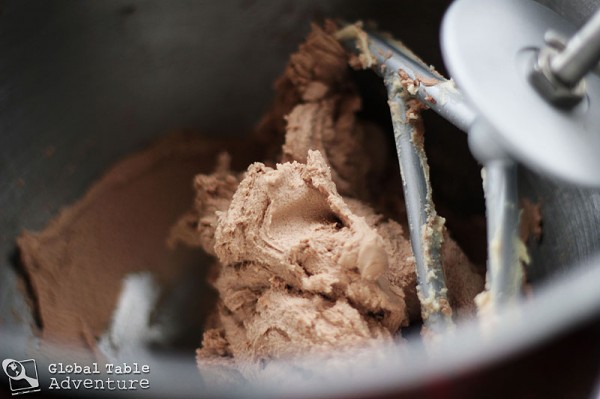 Place each dough in saran wrap  and pat into square discs. Refrigerate for 30 minutes before shaping.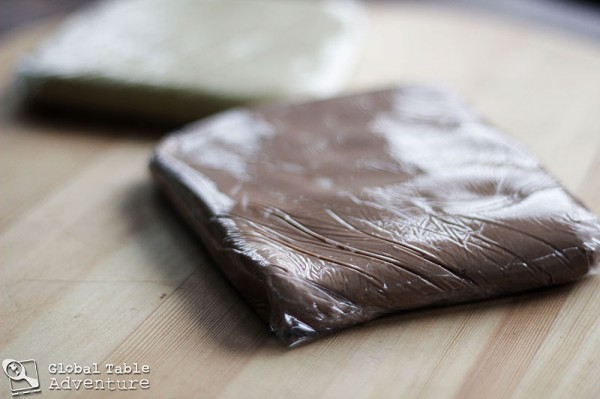 Meanwhile, for inspiration, take a walk around Tripoli harbor in Libya and enjoy the sunshine.
When you get home, preheat the oven to 375F.
Working with one disc at a time, slice into even squares. Then roll each square in your hand until a ball forms. Press a clove or a pine nut into the center.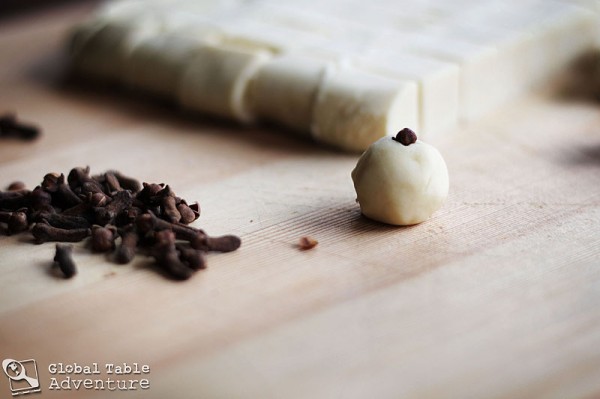 When they're all done, pop the cookie sheet into the oven…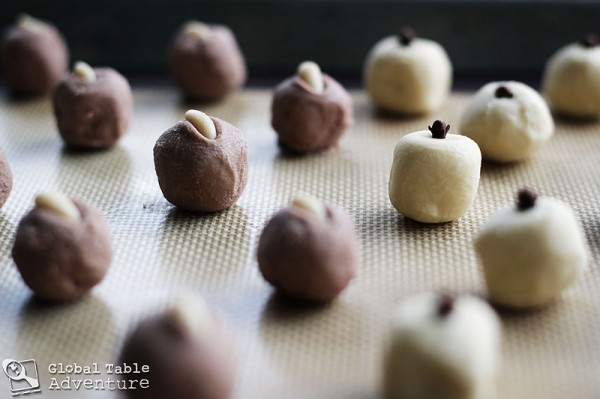 … and bake for a few minutes (3-6). They should not turn color at all. They'll be soft when removed from the oven, but harden when cooled.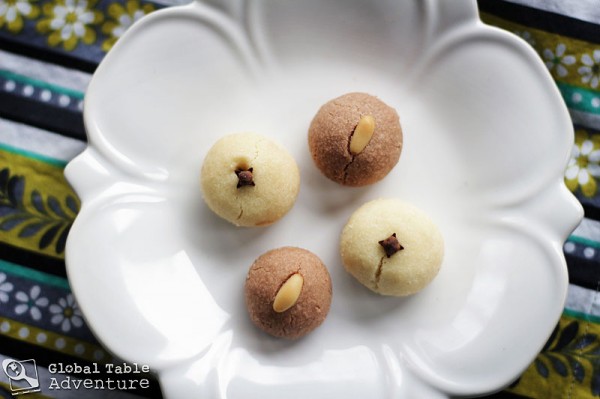 I highly recommend doing a small test batch as I always burn my first tray of shortbread. Everyone does.
It's a scientific fact.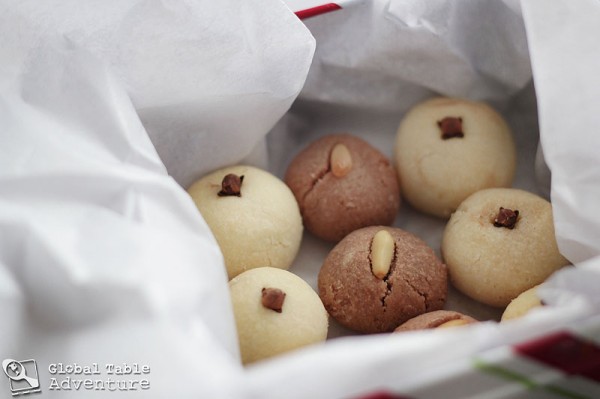 These make great nibbles for cookie swaps, potlucks, and tea parties.
P.S. Don't be afraid to eat that whole clove. They do in Libya.
It tastes like winter and happiness all balled up into a tiny cookie.
Enjoy!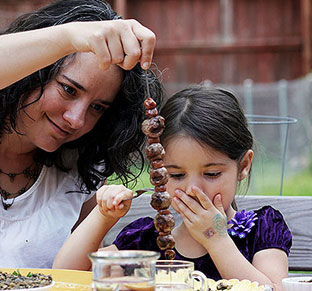 Hungry for more?
Be notified when National Geographic releases my memoir.
Simply fill in your details below.