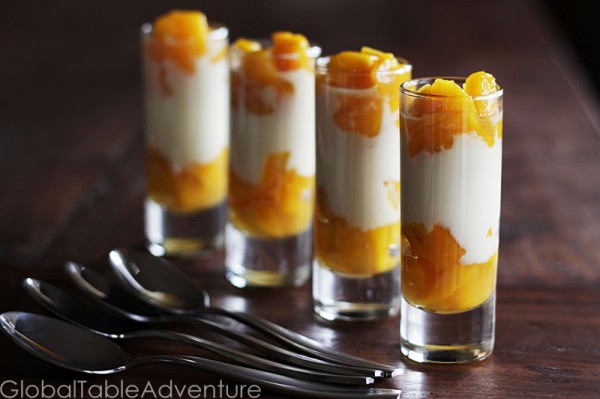 Serves 8
(really this depends on the size of your mangoes)
What would you make if you had milk and ginger root, but no refrigeration? What if you had mangoes but no ice cream machine or blender?
You'd use up that milk as fast as possible – whip it up into a ginger custard and toss it with stewed mangoes! This is a high class treat in The Gambia, where real milk is far less common than imported powdered milk.
As for the parfait glasses? Totally a Sasha-spin. Feel free to just dollop the cream with a gallop of mangoes in the center of a small bowl for rustic appeal.
Ingredients
For the stewed mangoes
3-4 small mangoes, diced
1/4 cup water
1/3 cup sugar, or as needed
(if your mango is ripe you may not need any sugar)
For the ginger custard
1 1/2 tsp packed fresh grated ginger
2 eggs
1 cup whole milk
1 cup heavy cream
1/3 cup sugar
Method:
First for the stewed mangoes…
For this recipe you definitely need to wear flip flops and sport messy, windblown hair.
First things first. Dice up your mangoes. Sneak a taste. Feel mango-love fill your heart. Smile big.
Champagne mangoes are in season right now. Yum. You can use semi-ripe or ripe mangoes for this recipe, whatever you prefer.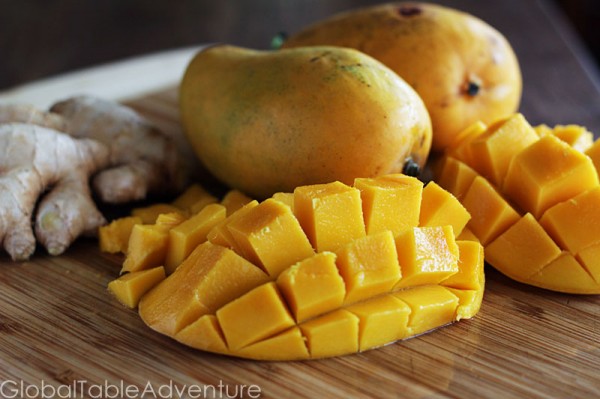 Your mangoes will beg you for sugar if they aren't completely ripe.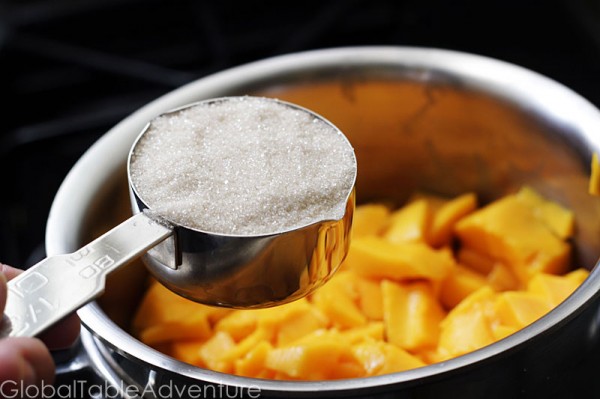 Next, add water. The water will keep everything moist as it simmers. Simmer, uncovered, until the sugar dissolves and the fruit is softened to desired consistency.
Note: Do not make mushy unless you lack teeth. (There' an exception to every rule).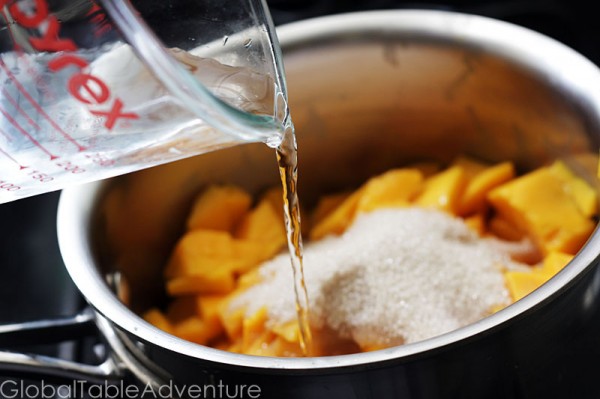 For the ginger custard:
In a heatproof bowl, whisk together fresh grated ginger, 2 golden eggs …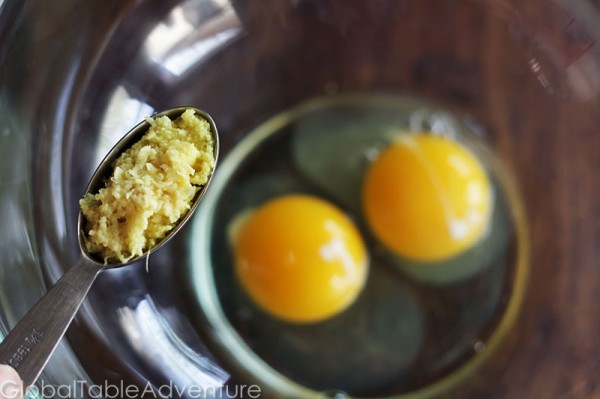 … sugar …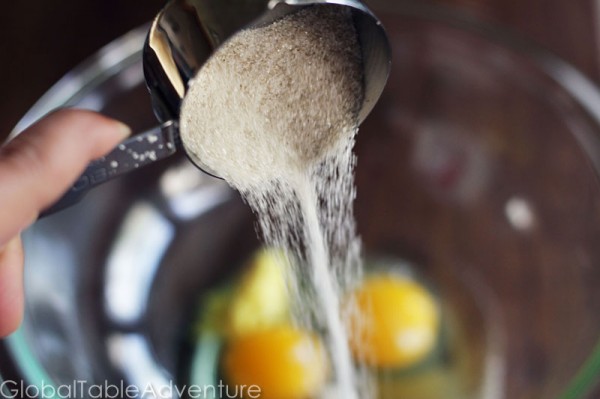 … whole milk …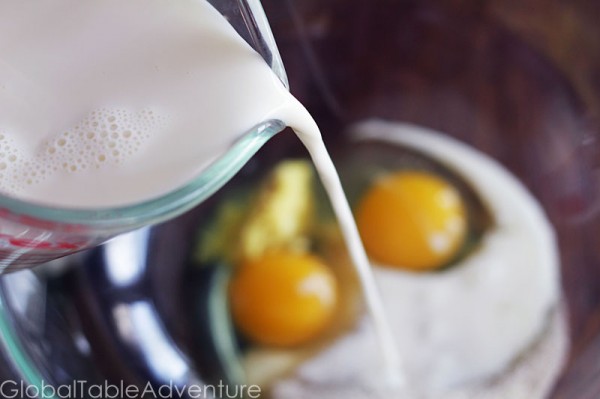 and heavy cream.
Side note: I once ate an entire can of whipped cream on a dare. Only after my belly started hurting did I decide to read the nutritional facts. I never ate an entire can of whipped cream again. End of story.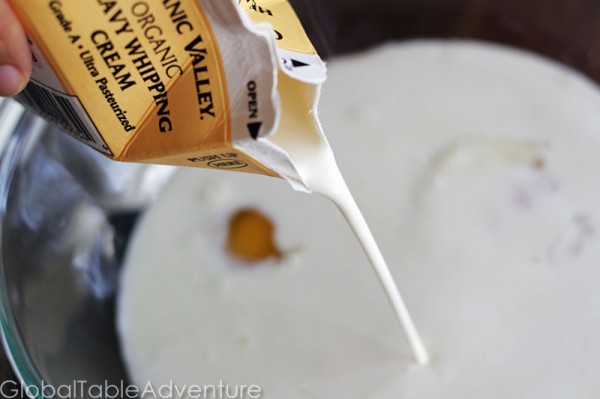 Now you have two options.
A) Cook over a pot of heartily steaming water, double boiler style. The heat should be pretty high so the steam stays very … steamy.
B) Whisk directly in a pot over low heat. You must whisk constantly. This method will thicken into custard much more quickly.
Either way, cook until thickened and the mixture resembles yogurt in texture. It can take around 30 minutes if you are doing it double-boiler style. Keep whisking.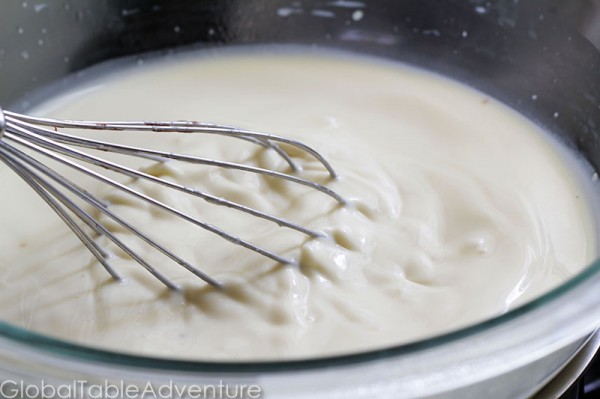 Serve warm, room temperature or cold. I am partial to layering the custard and mango in little parfait glasses because I eat with my eye balls first.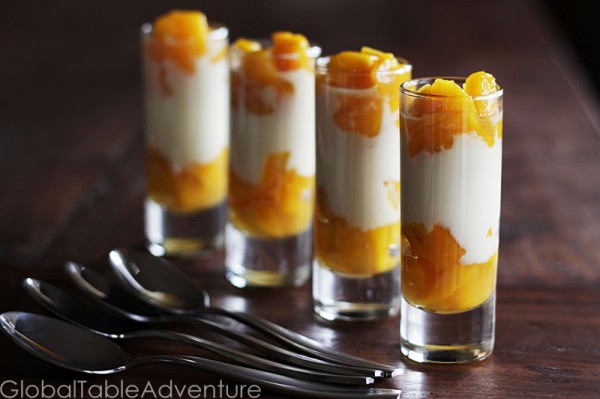 I had no idea The Gambia was going to be so good to me.
Passing out is optional.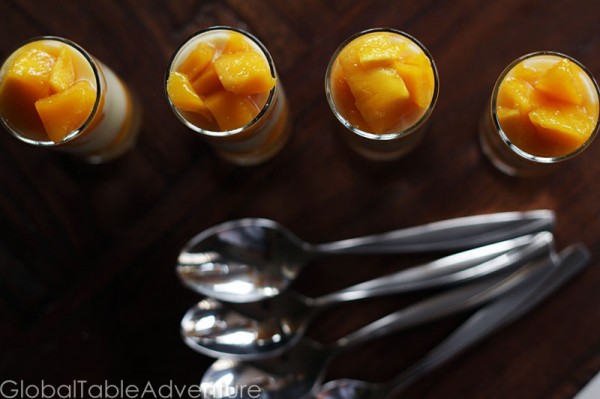 Eat with three friends on a hot summer's day, when the air conditioning just doesn't keep the house cold enough.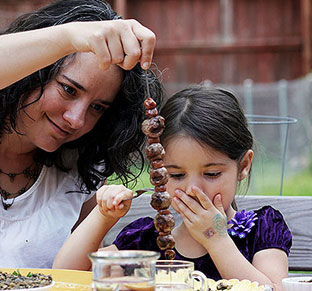 Hungry for more?
Be notified when National Geographic releases my memoir.
Simply fill in your details below.