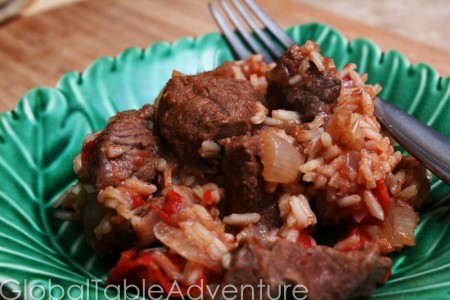 Serves 4
Suffering from 1 digit weather? Ice, snow, and rain? What about sleet? Let's warm things up with Skoudehkaris. Known as the national dish of Djibouti, this heavy stew is a spicy, comforting treat. The bonus? It'll make your house smell amazing.
Ingredients:
1 lb lamb, cubed
1 onion, chopped
1-2 Tbsp ghee or vegetable oil
1 tsp cumin
1/4 tsp cloves
1 tsp cardamom
1/4 tsp cayenne (or to taste)
1/2 tsp cinnamon
1 14 oz can diced tomatoes
1 cup water, plus extra as needed
1/2 cup long-grain rice
salt & pepper
Method:
Put on your beret – today you are going to be an artist, painting flavor with spices.  (Trust me, the beret is totally appropriate: Djibouti has been heavily influenced by France – it was French ruled until 1977)
So.. like I said, get out your beret. Here is your palette… the warm colors of cumin, cloves, cardamom, cayenne, and cinnamon.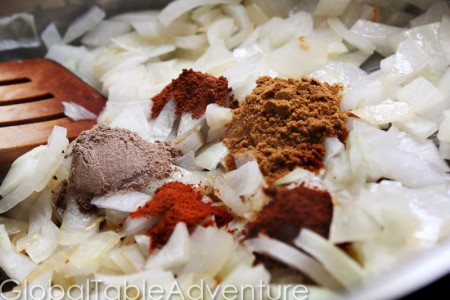 Heat it up in a large pot or skillet with lid with ghee (or oil) and onions. Cook until soft and fragrant.
Try not to pass out from the wonderful aromas filling your home.
Add in the lamb and brown it a little (push the onions out of the way so that the meat can get contact with the pan)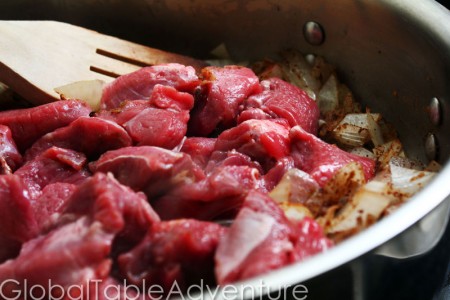 Next, add in the tomatoes and water.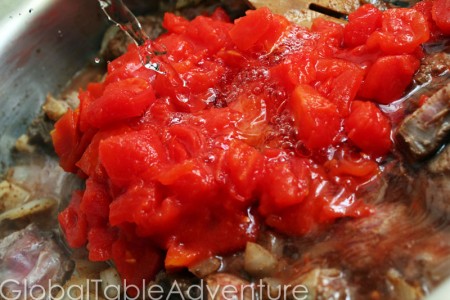 Cover and simmer for 45 minutes, or until the lamb is tender.
You can serve this brothy lamb stew on top of laxoox (yummy yeast-risen flatbread)… and enjoy!
NOTE: You can simmer it uncovered if you want a drier stew.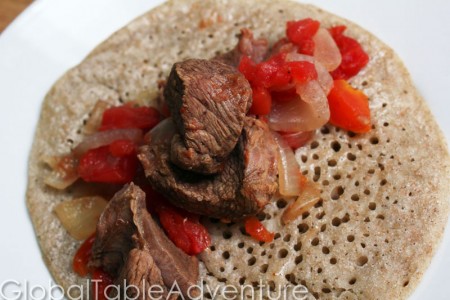 Now, for those brave souls who feel like one more tiny step… read on!
Let's make a true Skoudekaris:
Add rice to pan and splash in extra water – maybe 1/2 cup.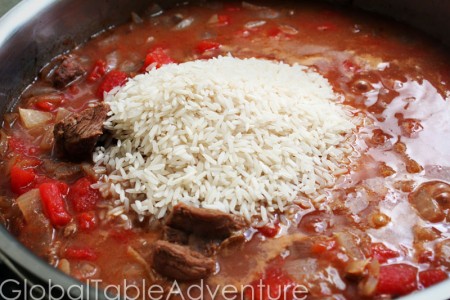 Stir, cover and simmer for about 20 minutes – or until the rice is tender.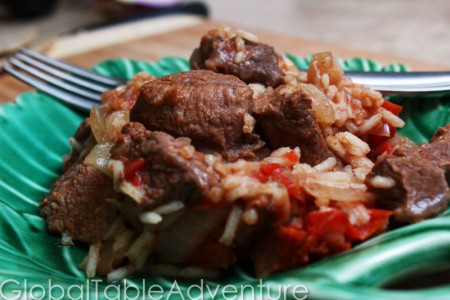 That's it! Then, instead of a brothy stew, you'll have a full meal for 4 and only one dirty pot.
That's something worth celebrating.
Enjoy!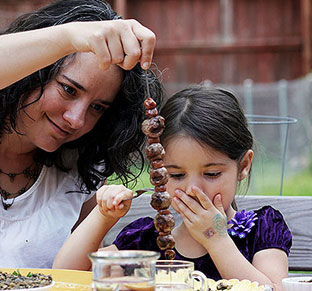 Hungry for more?
Be notified when National Geographic releases my memoir.
Simply fill in your details below.