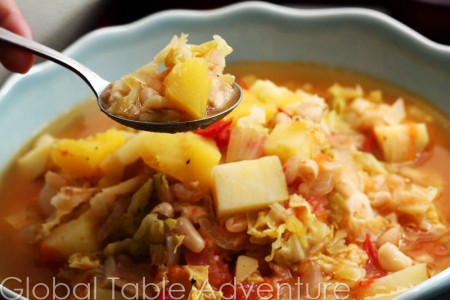 Makes about 1.5 gallons
Cachupa is the quintessential Cape Verdean dish. While there are countless variations, almost all Cachupas have hominy, beans, and potatoes. Some add yucca. Any assortment of vegetables and legumes can be added, depending on availability. For those who can afford it, dried and smoked Portuguese sausages are also added for tremendous "stick to your bones" flavor. Fish, such as tuna and wahoo, is a little more attainable for the average citizen. Our version is vegan and more affordable.
More in the mood for breakfast? Leftover Cachupa will suit you too. In fact, refried cachupa (cachupa rafogado) is often served with fried eggs. Nothing like sight, smell, and sound of sizzling eggs in the morning…
Tradition vs. our version:
Traditionally and typically, the hominy is pounded prior to cooking, however our version leaves the kernel whole for texture. Even still, the entire stew infuses with the soft corn-like flavor of this addictive grain. If you've never tried hominy, run out now and buy some! Add it to any stew for wonderful, slightly chewy texture. Trust me. It will change your life.
While Cape Verdeans add whatever vegetables they have on hand into this stew, most pictures appear to show a fairly small pieces (except for when sausage is added). Our version contains large "meaty" chunks of vegetables to give our vegan stew substance.
Our photos were taken immediately after cooking. This stew is definitely best served the next day, when everything thickens and the flavors meld.
Ingredients:
vegetable or red palm oil
3 cups hominy (29 oz can)
1.5 cups prepared great northern beans (15 oz can)
2 onions, chopped
3 tomatoes, chopped
5 cloves garlic, sliced
1 tsp paprika
1 savoy cabbage, shredded
3 white potatoes, cubed
1 small acorn squash, peeled and cubed
water, to cover
Method:
Assemble your ingredients. I'm warning you. It will look like you robbed a farm stand.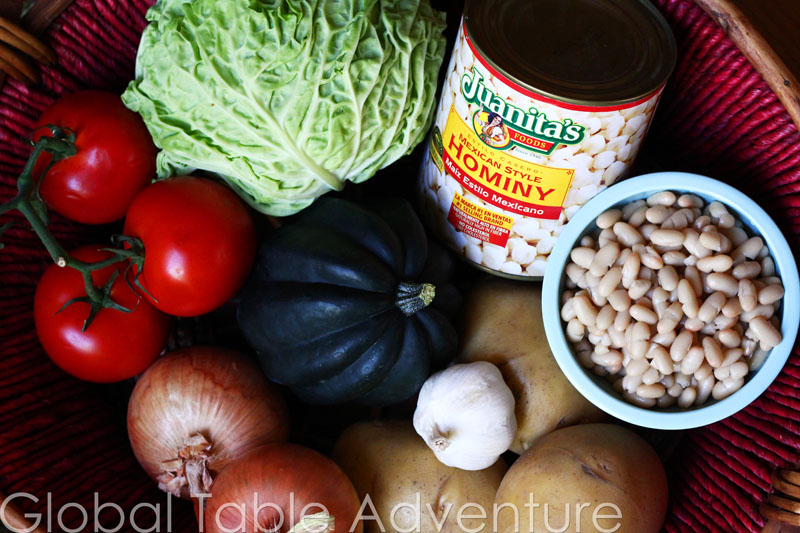 In pot that holds at least six quarts, heat up oil over medium heat. Add onion…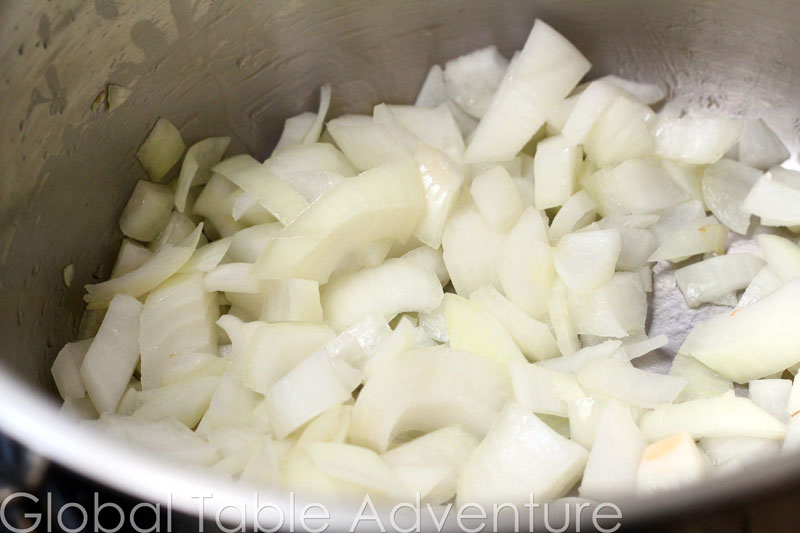 and garlic…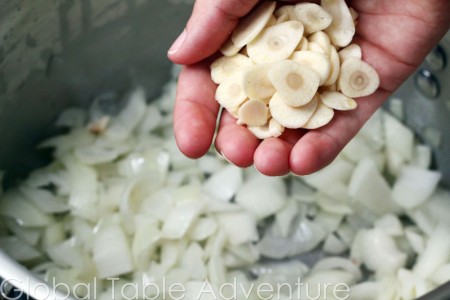 and saute until soft. Then add paprika, which will give the stew a lovely rusty hue.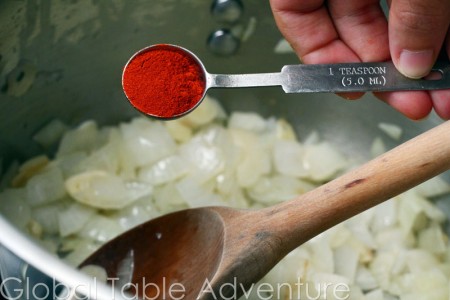 Pile on the potatoes…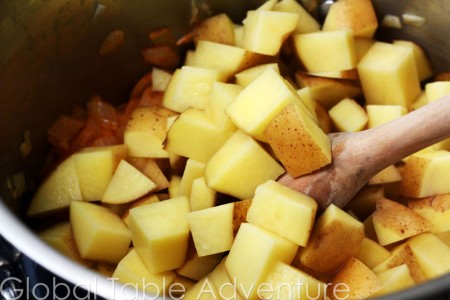 … acorn squash…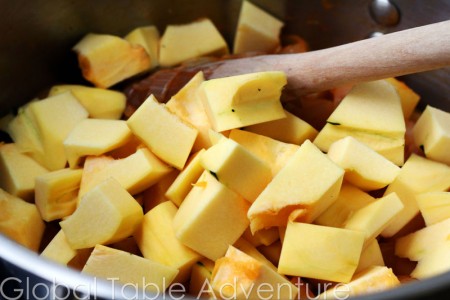 …hominy…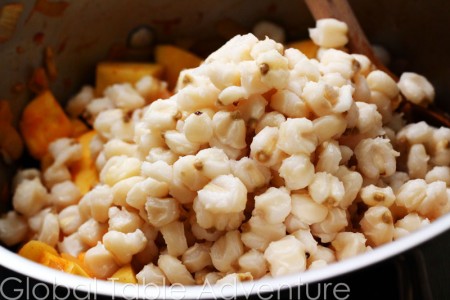 …great northern beans…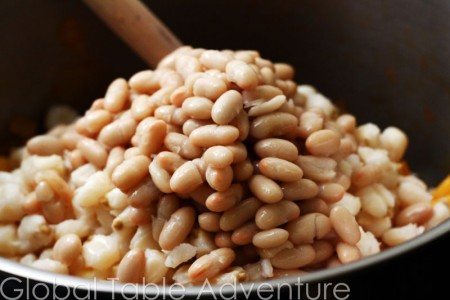 …shredded savoy cabbage…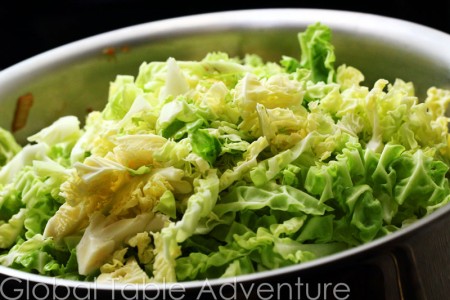 …and chopped tomatoes. Phew things are getting really tight. Don't worry, once the cabbage cooks down, you'll have a few inches to spare.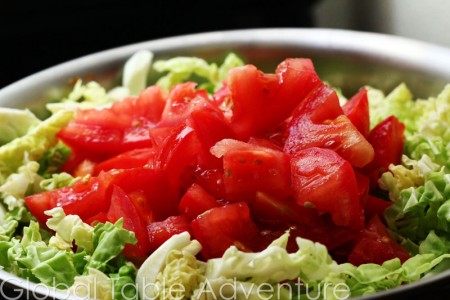 Add water to cover. Bring pot to a simmer, stirring the ingredients together every once in a while.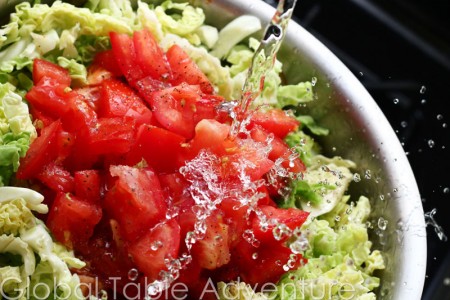 Cook for about 1 1/2 – 2 hours, or until all the ingredients are tender. In my version the acorn squash all but disintegrates, becoming thick body for the stew.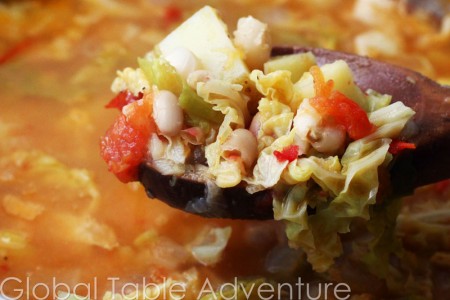 Serve with a big smile and hunk of bread.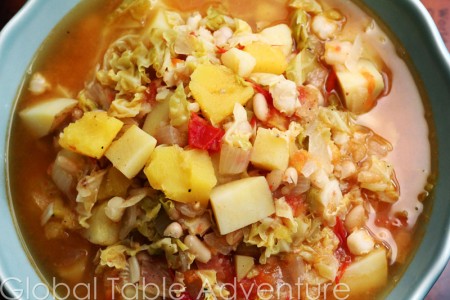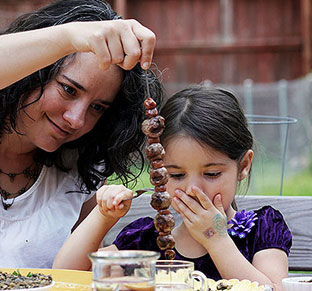 Hungry for more?
Be notified when National Geographic releases my memoir.
Simply fill in your details below.