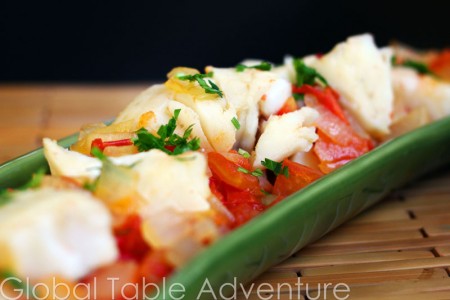 Serves 2-3
Make this African dish with your favorite white fish. In Burundi, they use whole Ndagala or mukéké. The tomatoes and onion make a fresh, brothy sauce, while a pinch of fresh parsley enhances the flavor.
Sometimes the fish is fried separately, then added to the sauce. I prefer the health benefits of gently steaming the fish over the sauce.
Ingredients:
1 Tbsp red palm oil
1 lb fish (we used cod)
1 onion, chopped
3 tomatoes, chopped
1 habenero (whole or halved)
1 cup water
Salt to taste
Method:
1. Heat oil over medium heat. Add onion and cook until soft. Then add tomatoes, habenero, water, and salt.
2. Simmer, uncovered, about 15-30 minutes, until the tomatoes break down into a light, brothy sauce. If you prefer a more reduced sauce – or less, adjust time to your preferences.
3. Add fish, cover, and cook until done. This will depend on the thickness of your fish. Check to make sure the fish flakes easily to determine if done. Ours took about 15 minutes.
Tomatoes are expensive in Oklahoma. I'm glad I had some in my backyard, ready to go!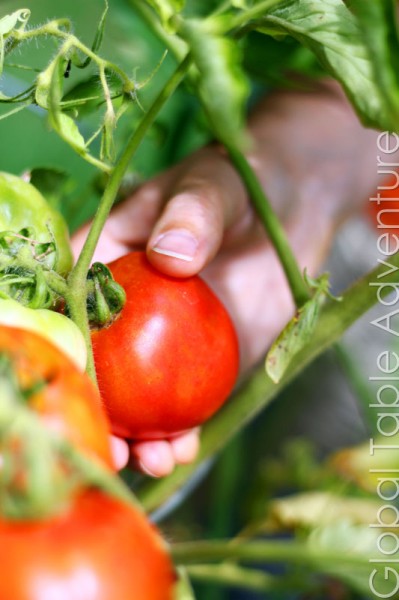 Chop the onion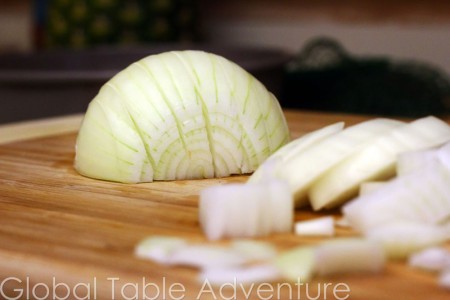 … until you have a nice big mound of it.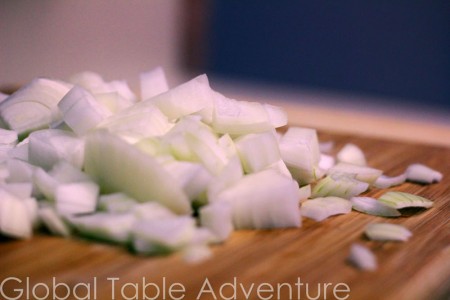 Here's the tomato, warm from the garden.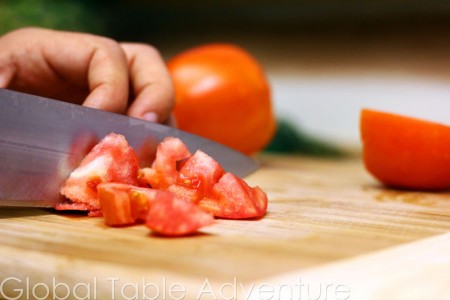 Slice the fish into small portion sizes. I did about 2 inches each.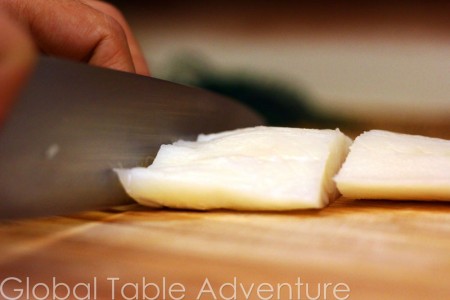 Drizzle some red palm oil into a pan. (can you see us in the reflection, upside down?)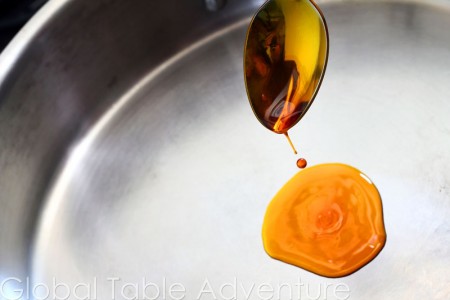 Add your onions and cook over medium heat.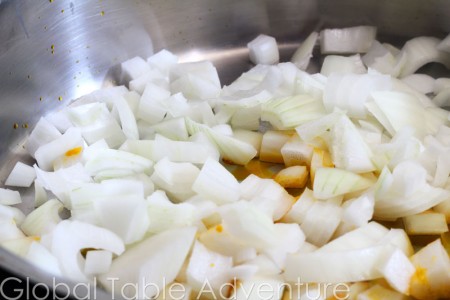 The red palm oil turns them to gold!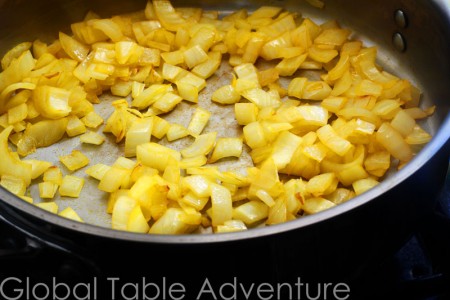 And, now, for our lovely tomatoes.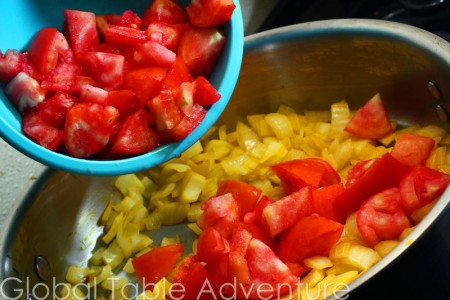 And a little water, to keep things from burning.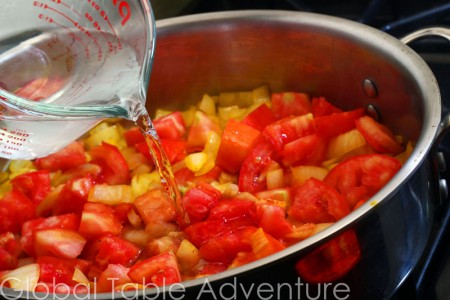 Here's the mighty habanero. I don't think there was enough time for it to release its heat. Consider cutting in half if you want a spicy dish.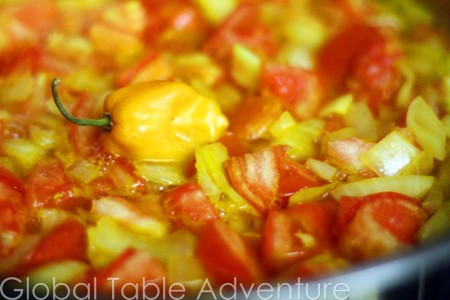 Salt brings all the flavors out. I like to use sea salt. It makes me feel closer to the … sea.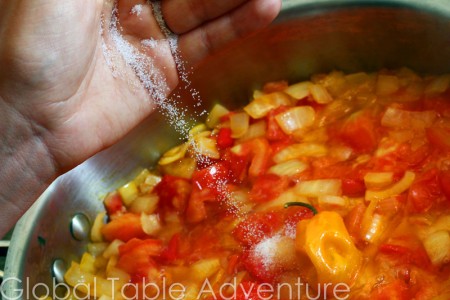 After the sauce simmers a while, add the fish, cover and steam.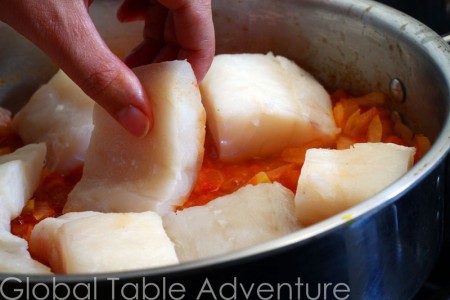 When cooked, the fish will flake easily.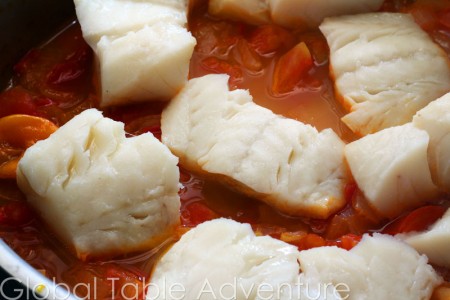 The flavor is light, brothy and simply wonderful. Plus, it looks really pretty sprinkled with parsley, in a green dish!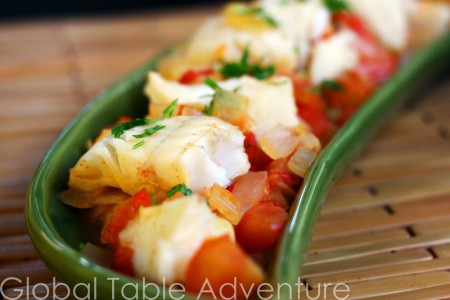 And it goes really well with the rest of our Burundian meal!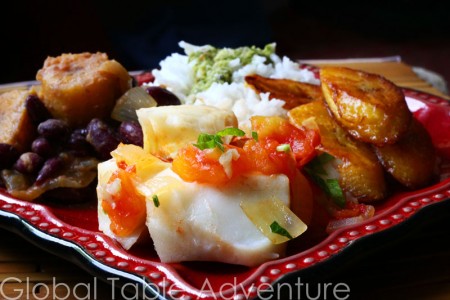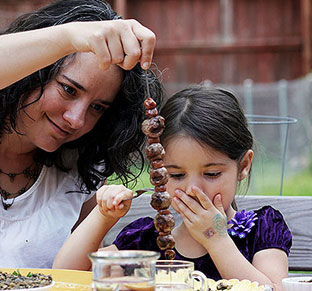 Hungry for more?
Be notified when National Geographic releases my memoir.
Simply fill in your details below.