Serves 8-10
This grown-up Mac & Cheese gets its kick from cayenne pepper. Substitute paprika for the cayenne if you prefer non-spicy food.
Ingredients:
1 lb elbow macaroni
2 eggs
2 tbsp. butter
1 cup onion, minced
1/2 cup green pepper, minced
1 – 1 1/2 tsp cayenne (mild-hot)
1 lb grated cheddar cheese
1 12 oz can evaporated milk
1/2 tsp salt
Method:
1 Boil elbow macaroni for about 5 minutes, or until al dente. Drain and return to pot.
2. Stir in cheddar, pepper, and onion.
3. In a small bowl or measuring cup stir together eggs, cayenne, evaporated milk, and salt. Pour over macaroni and stir to combine.
4. Pour into a greased lasagna pan, spreading evenly with spatula. Dot with butter.
NOTE: At this point I refrigerated the macaroni until shortly before I needed it.
5. Bake at 350F for 30-45 minutes. Let cool about 10 minutes and slice into squares. Serve hot.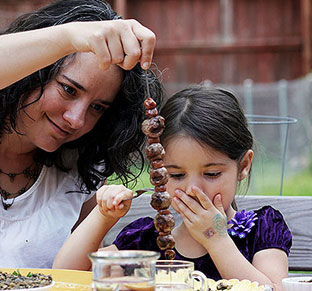 Hungry for more?
Be notified when National Geographic releases my memoir.
Simply fill in your details below.