Serves 4
This dessert combines crunchy almond pieces with creamy custard.  I learned from my Global Table dinner people either love or hate the contrast of texture. Enjoy with hot tea.
Ingredients:
3/4 cup ground almonds
2.5 cups milk
1/4 cup sugar
1 Tbsp butter
1/8 cup semolina
1/4 tsp ground cinnamon
1 tsp rosewater
pinch saffron, crushed
slivered almonds & cinnamon – garnish
Method:
1. Heat ground almonds with milk and sugar. Bring to a boil, to infuse the almond flavor into the milk. Remove from heat and let cool slightly.
2. Meanwhile, in a medium saucepan, toast semolina in butter, stirring for a few minutes.
3. Add milk mixture to semolina in a smooth, steady stream. Simmer, uncovered for about 15-20 minutes or until thickened like pudding. Add saffron and cinnamon.
NOTE: If you let this boil by accident, the bubbles are like volcanos. The lava pudding can give quite a burn. Don't ask me how I know…
4. Stir in the cinnamon, rosewater, and saffron.  Spoon into dessert bowls and refrigerate. Garnish with slivered almonds.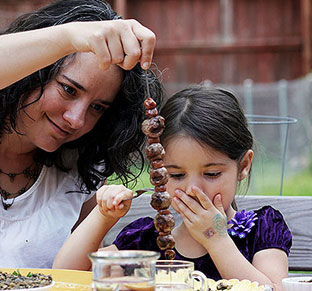 Hungry for more?
Be notified when National Geographic releases my memoir.
Simply fill in your details below.