Makes 12 large meatballs
In this case, spicy means seasoned, not hot. Serve with rice pilaf … or stick on toothpicks for a finger food at a party (just put the sauce in a little bowl in the center).
Ingredients:
For the meatballs:
3/4 lb ground beef, 85% lean
3/4 lb ground lamb
1 large onion, grated
1 egg
2 Tbsp ice water
1/4 cup dry bread crumbs
1/2 tsp ground allspice
1/2 tsp hot Hungarian Paprika (for mild, increase for hot)
1 tsp dried mint
1 – 1 1/2 tsp salt
1 tsp pepper
For the Sauce:
2 cup chicken stock
1/2 cup pomegranate concentrate (available at natural grocers)
1/2 tsp black pepper
2 Tbsp honey
Method:
For the meatballs:
1. Combine onion, egg, water, bread crumbs, allspice, paprika, mint, salt and pepper in a small bowl.
2. Pour onion mixture over ground beef and lamb. Using hands, squish everything around until all the seasonings are evenly dispersed.
3. Chill meatball mixture for an hour.
4. Shape meatballs and place on a foil-lined baking sheet (or silpat).  I made each one with a 1/4 cup of the meatball mixture. This made 12.
NOTE: At this point I chilled the meatballs overnight. Right before baking I "perked them up" with a quick shaping. When roasted cold, they retain their round shape a little better.
5. Roast at 425F for 20-25 minutes.
For the sauce:
1. In a small saucepan, combine pomegranate concentrate, honey, pepper, and stock. Simmer for 5 minutes and pour over meatballs. Serve hot.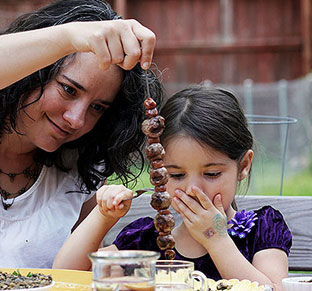 Hungry for more?
Be notified when National Geographic releases my memoir.
Simply fill in your details below.