Serves 6
I almost didn't make this pilaf because there were so many steps. I went out on a limb because I figured Azeri's must know how to cook basmati rice better than me. I was right. This is a great rice dish, buttery and delicately perfumed with saffron.
Ingredients:
2 Potatoes
2 cups basmati rice
2 tsp salt
1/4 cup water
2 sticks butter
1 tsp saffron threads, soaked in a Tbsp of hot water.
optional garnish:
fresh mint leaves
Method:
For the potato crust:
1. Slice 2 potatoes thinly. Mix water with 4 Tbsp melted butter. Pour into the bottom of a large skillet or pan that has a tight-fitting lid.
2. Line the bottom of the pan with potato slices, fitting them close together without overlapping. Mine overlap a little because the sloped sides of my pan caused them to slide down – the crust still turned out fine, so don't worry too much about this.
3. Cook over medium heat for 5-10 minutes, or until the potatoes soften and begin to turn slightly golden.
For the Pilaf:
1. Put rice in a sieve and rinse under cold water to remove the starch that makes rice gluey.
2. Cover rice with warm water by an inch. Add 2 tsp salt and let soak for about an hour.
3. Drain water and rinse again.
4. Add rice to a large pot of boiling, salted water (about 3 quarts of water). Boil about 8 minutes, or until slightly hard still – almost cooked.
5. Drain and rinse rice again.
6. Add half the rice to the casserole, sprinkle with 4 Tbsp melted butter, and top with the second half of the rice. Add another 4 Tbsp melted butter.
7. Use the handle of a wooden spoon to poke 6 holes into the rice, for steam to travel through. Cover with lid and weigh down with cans to help seal steam in, if necessary.
8. Cook pilaf over low heat for about 40 minutes, weighing down the lid so that no steam can escape.
TO SERVE:
1. Spoon 2 cups of cooked pilaf into a small bowl. Toss with saffron and final 4 Tbsp of butter.
2. Spoon the plain pilaf onto serving platter. Add saffron rice on top.
3. Using a good wooden spoon or spatula, scrape potato "crust" off of pan. Sprinkle the crust over the top of the pilaf.
4. Garnish with fresh mint if desired. Serve immediately.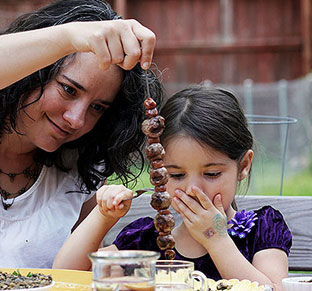 Hungry for more?
Be notified when National Geographic releases my memoir.
Simply fill in your details below.