Serves 8-10
When made properly, Sacher-torte is enrobed in a silky, smooth layer of chocolate ganache. This cake will satisfy any sweet tooth. I made sure to make enough glaze that even the novice decorator will be able to coat the entire cake.
Please note: This is *not* the same recipe as published in my upcoming article in AFAR Magazine. The technique is totally different.
Ingredients:
For the cake:
1/2 stick butter, melted
3/4 cup flour
1/4 cup dutch-processed cocoa
1/4 tsp salt
6 large eggs
1 cup sugar
1 1/2 tsp vanilla extract
1 1/2 cup apricot preserves (chunk-free, or strained)
For the glaze:
1 cup heavy cream
4 Tbsp light corn syrup
8 ounces semi-sweet chocolate
1 tsp vanilla extract
Method:
For the Cake:
1. Preheat the oven to 350F. Grease a 10″ round springform pan. Add a circle of parchment paper to the bottom.
2. In a small bowl, sift together the flour, cocoa, and salt.
NOTE: You really need to sift them together, making them light and fluffy. Sponge cakes rely on every possible step to be as airy as possible.
3. Prepare a double boiler with simmering water and the bowl of your mixer on top. Add the eggs and sugar to the bowl and whisk over the simmering water until warm (about 110F).
4. Remove from heat and place on mixer base. Using whip attachment, beat on medium-high (#10 on a cuisinart mixer) for 8 minutes, or until a thick ribbon is formed and holds its shape for several seconds after falling from the beaters. THIS STEP IS CRITICAL (see photos of cake properly aerated versus not). Add vanilla extract in the last few seconds.
5. In a small bowl, combine melted butter with one cup of batter. Set aside.
6. Add flour mixture to batter, whisking slowly until just barely combined. Gently stir in the melted butter mixture.
7. Before the batter has a chance to deflate, gently pour into the prepared springform pan.  Smooth the top and bake for about 35 minutes.
Assembly:
1. Place a wire rack on a cookie sheet. When cool enough to work with, flip cake upside down onto wire rack. Cut cake along the equator into 2 even discs.
2. Next make a cake and jam sandwich, using half the jam. (Lift off the cake top. Spread filling on the cake bottom and put top back on.)
3. Spread remaining jam on top of the cake. Let extra spill over the sides.
4. Refrigerate about 30 minutes, or until the jam is set. Meanwhile prepare the glaze (see below)
5. Pour glaze over the cake. Using a spatula, spread evenly over top and sides. Refrigerate at least an hour, or as much as 48 hours.
For the glaze:
1. Simmer cream with corn syrup. Remove from heat and add chocolate. Without stirring, cover and let sit about 10 minutes.
2. Add vanilla extract. Stir until smooth and glossy. Cool until lukewarm and the consistency thickens to that of honey.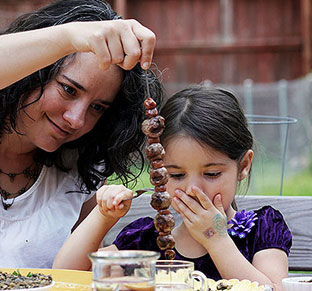 Hungry for more?
Be notified when National Geographic releases my memoir.
Simply fill in your details below.