Serves 8-10
This dense frontier bread is traditionally cooked in hot campfire embers. Enjoy plain, with jam and butter, or dunked in chicken noodle soup. This recipe can safely be halved.
Ingredients:
8 cups flour
1 Tbsp salt
1/4 cup baking powder
1/4 cup sugar
2.5 cups milk, plus more as needed
Method:
1. Preheat oven to 425F. Grease a lasagna pan with butter or vegetable oil.
2. Add salt, baking powder, and sugar to a small bowl. Whisk to combine. In a large bowl, whisk together flour with the other dry ingredients until evenly distributed. Add milk and stir with a wooden spoon to form a stiff dough. Some extra milk may be needed, but take care not to make it too wet.
3. Press evenly into pan. Cut lines 1/4″ into the dough with a sharp knife.
4. Bake for 25 minutes or until golden. Serve hot or room temperature.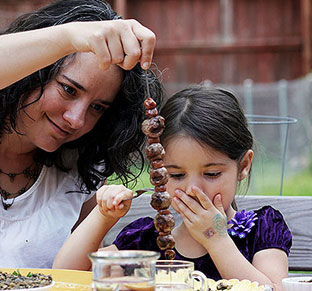 Hungry for more?
Be notified when National Geographic releases my memoir.
Simply fill in your details below.