Serves 4
Trinxat is an Andorran speciality. Potatoes, cabbage, and bacon get fried together in a hash "pancake." Garnish with minced parsley. Yum!
Ingredients:
1 green cabbage, cored and quartered
1 lb potatoes, peeled and quartered (about 3 medium)
3 strips bacon, diced
4 cloves garlic, minced
2 Tbsp minced fresh parsley
olive oil
salt, pepper
Method:
1. In a large pot filled with salted water, boil potatoes and cabbage until tender. Drain thoroughly. Return vegetables to pot over low heat and let steam dry some more. Roughly mash the cabbage and potatoes with minced garlic.
2. In a large skillet, cook bacon over medium until crispy.
3. Increase heat to medium high. Add potatoes and cabbage on top of bacon. Press into the pan to make a flat cake. Cook until bottom is golden brown. Pass under broiler until  top is hot and slightly golden.
4. Turn over onto serving platter, bacon side up.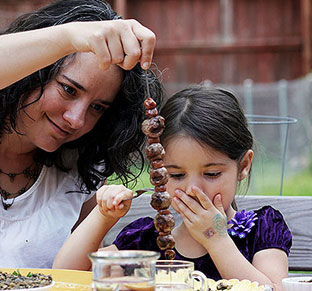 Hungry for more?
Be notified when National Geographic releases my memoir.
Simply fill in your details below.