Serves 4
The bold flavors of Firnee will shock the western palette. Rose water and Cardamom dominate this delightfully creamy custard, while the ground nuts add a mystifying texture.
Ingredients:
2 1/4 cup whole milk
1 cup sugar
4 Tbsp cornstarch
1 tsp ground cardamom
1 capful rosewater
2-4 Tbsp pistachios, finely ground
12 whole pistachios for garnish
Method:
1. Heat milk in a small, heavy bottomed saucepan over low heat.
2. In a small cup mix cornstarch with a few tablespoons milk. Stir to create a smooth, gravy like consistency. This is called a cornstarch slurry.
3. Add cornstarch slurry, sugar, cardamom, and rose water to saucepan. Stirring constantly, heat mixture until it thickens and a few bubbles break through the surface.
4. Remove from heat and ladle into serving dishes. This recipe will fill 4 small ramekins.
5. Cover with  plastic wrap, pressing lightly onto the pudding. This prevents a skin from forming on the custard.
6. Refrigerate and cool completely. Sprinkle with ground pistachios, decorate with 2-3 whole pistachios, and serve.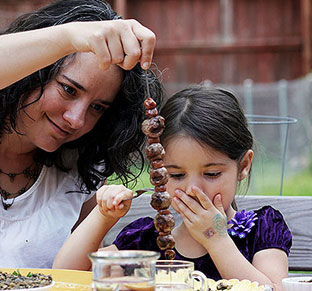 Hungry for more?
Be notified when National Geographic releases my memoir.
Simply fill in your details below.