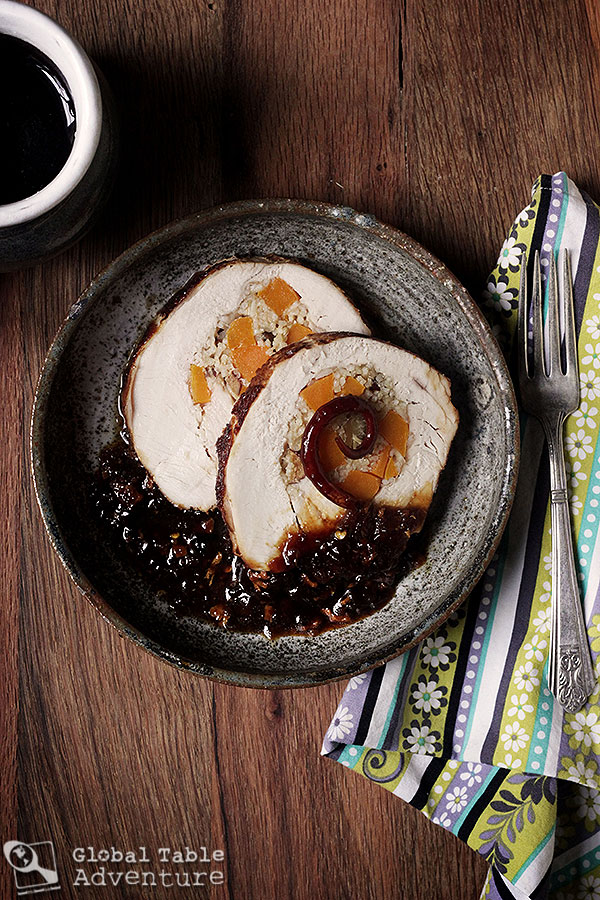 You've had roast turkey and deep-fried turkey… but what about turkey with real international flavor? This Thanksgiving let's honor our melting pot culture with a recipe worth talking about. This Korean stuffed turkey breast is perfect for a smaller gathering of curious epicureans, happily feeding 4-6.
I can't decide if the best part is the sweet and spicy glaze (made with soy sauce, mirin, ginger and garlic)…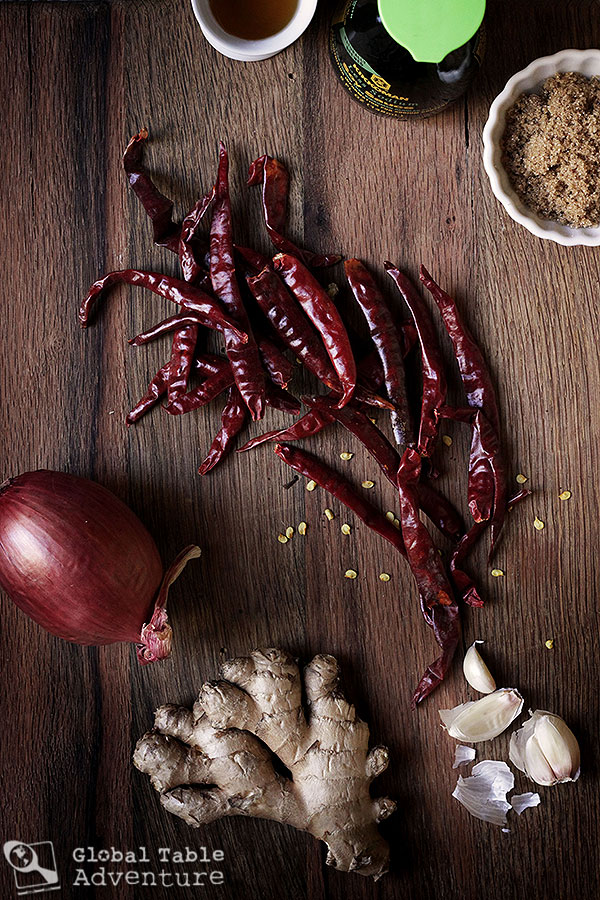 … or the butternut squash stuffing (complete with chestnuts, glutinous rice, and jujube dates)…
Or maybe it's the fact that it can be made on the stovetop… saving the oven for more important things like pie.
Lots of pie.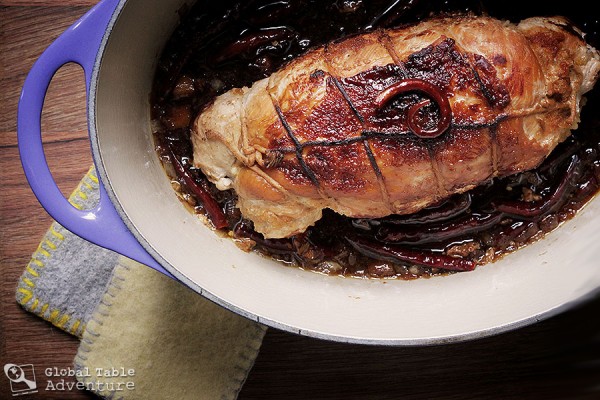 The recipe is inspired by a Korean stuffed chicken breast recipe in The Flavors of Asia by Mai Pham.
There's only a couple of watch spots with the recipe.
On soaking the rice: depending on the age it can be quite hard and if it isn't soaked enough it stays that way. Thankfully there's a guideline on most bags for how long. My recommendation is to double soaking times since the turkey provides a barrier and slows the steaming process.
On cooking vessels: Be careful to use the right size pot – too big and your sauce won't come up the sides of the roast and risks burning.The liquid should end up being about an inch up the sides of your pot.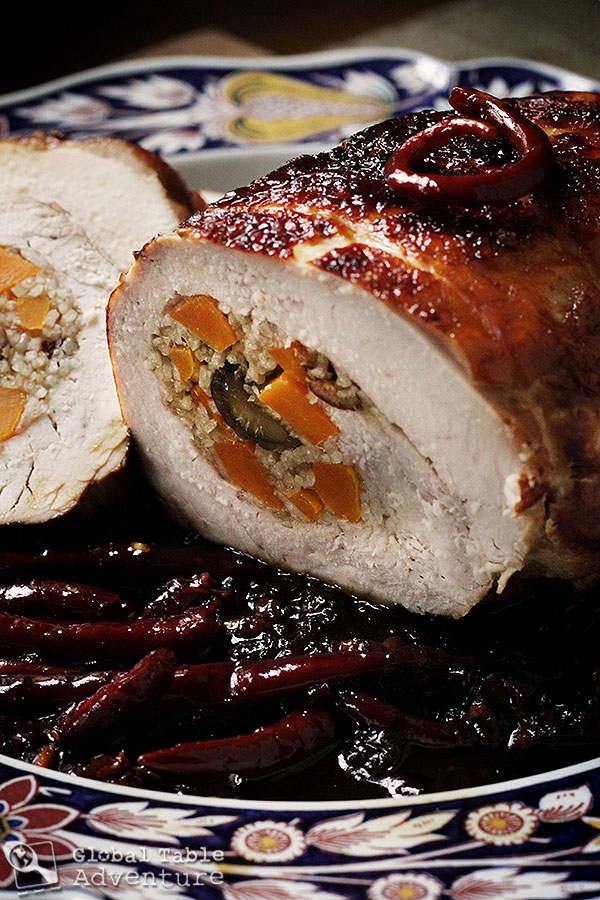 Inspired by The Flavors of Asia, Mai Pham
Ingredients:
1 turkey breast – about 1 1/4 pounds
salt & pepper
vegetable oil – a good glug
For the stuffing:
1/2 cup glutinous rice
2 Tbsp soy sauce
1 Tbsp honey
5 fresh chestnuts, quartered
5 jujube dates, pitted and chopped
1 cup cubed pumpkin or butternut squash
2 cloves garlic, crushed
For braising:
1 small onion, chopped
10-20  dried, whole red chilies
1/3 cup soy sauce
1/3 cup mirin or other rice wine
1/3 cup brown sugar
4 cloves garlic, crushed
2 teaspoons freshly grated ginger
Method:
Soak the rice in a 1/2 cup of water for at least 4 hours. Drain thoroughly, then mix with soy sauce and honey. Set aside while prepping the turkey breast and other ingredients for the stuffing. This will give time for the soy sauce to start absorbing into the rice.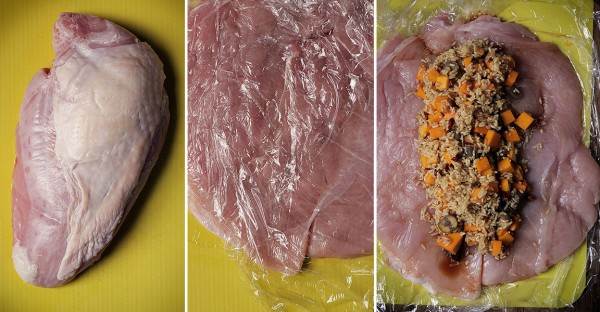 To prep turkey:
Trim any extra fat. Slit halfway through the thickness to butterfly the breast. Cover with plastic wrap and use a rolling pin to pound the meat to 1/2″ thickness. Season with salt and pepper.
Tip: At this point you can place the turkey on top of saran wrap (skin side down) – and use the saran to help you roll the turkey tightly – just like a bamboo mat is used to help roll sushi. It makes the job SO much easier.
Stir the rice mixture together with the remaining stuffing ingredients. Spread down the middle of the turkey (leave any extra soy sauce juices behind – we don't need them). Roll tightly and tie shut using kitchen twine (tie ever inch or so to keep the roll tight).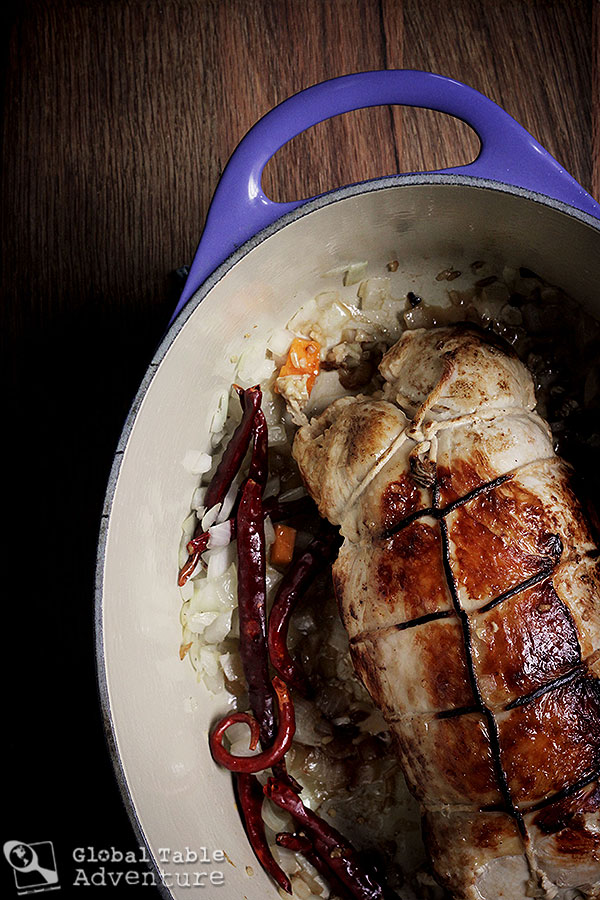 Pat dry with a paper towel and brown on stovetop in a good glug of oil, starting skin side down – this may take a good 5-8 minutes per side over medium high heat. After a few minutes of cooking add the onion and chili peppers. Turn once.
Stir together other braising ingredients and pour around the chicken. Cover and braise over medium low to braise for an hour and 15 minutes (or until the center of the turkey registers at 165F with a meat thermometer). Turn the turkey every fifteen minutes while cooking so as to get flavor into the entire breast.
Serve skin side up. While the meat is resting, reduce to the liquid to a thickened sauce for serving. Slice and serve with the reduced sauce.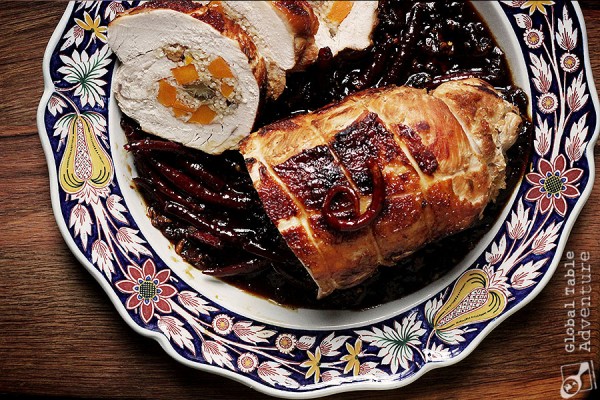 Enjoy with in a warm room with a cool, daydreamy sort of view…