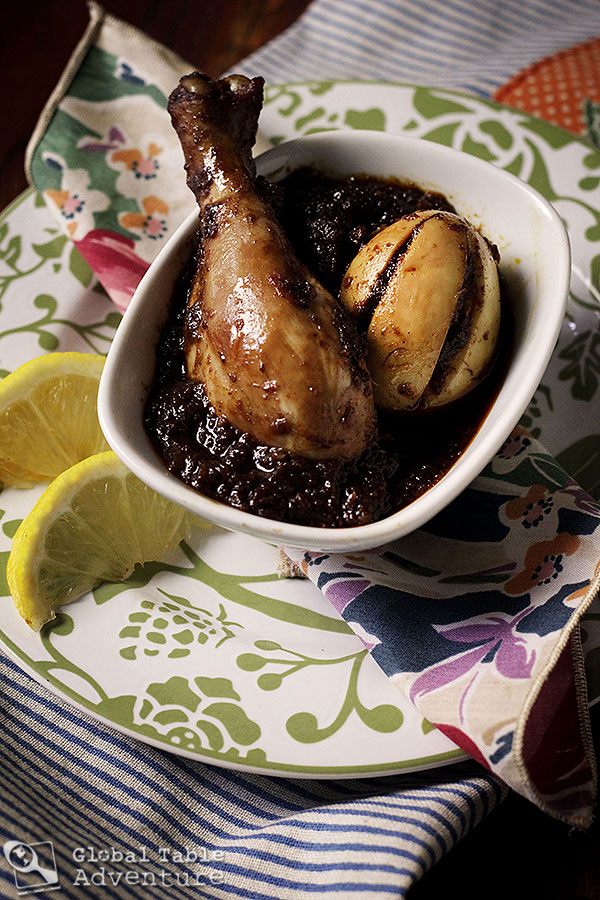 There's been a movement to make Enkutatash – a.k.a. Ethiopian New Year – as popular as St. Patrick's Day or Cinco de Mayo.  But instead of wearing green or dancing to a mariachi band you're invited for a much simpler, down to earth sort of celebration.
Wear white.
Pick yellow daisies.
And enjoy traditional Ethiopian food.
Waaaay back when
"Enkutatash" literally stands for "gift of jewels."
As the story goes, several thousand years ago the Queen of Sheba delivered more than 4.5 tons of gold and as many spices to King Solomon. King Solomon was quite the host as he, too, showered her with gifts:
…in return, King Solomon had assembled an array of gifts for her arrival. Great caskets of sticky Nubian millet beer awaited her party.

The gifts were staked on mules outside Solomon's palace, ready for her people to take to their camp and enjoy. Silks and linens from Gaza, Assyria, and Lebanon. Tapestry from Ma-Wara-Mnar. Dresses, sweet fruit from Iraq, Mongolistan winter melons. And basins of water from the spring at Siloe.

Following the queen's arrival, Solomon gave her a luxurious apartment in a palace next to his, and provided her with fruits, rose trees, silks, linens, tapestries, and 11 bewitching garments for each day of her visit. Daily, he sent her (and her 350 servants) 45 sacks of flour, 10 oxen, 5 bulls, 50 sheep (in addition to goats, deer, cows, gazelles, and chicken), wine, honey, fried locusts, rich sweets, and 25 singing men and women. (Source)
That's quite the haul!
(I particularly love the 25 singing men and women – imagine how great life would be if we had our own personal chorus?)
Upon the Queen of Sheba's celebrated return to Ethiopia, her people showered her with even more jewels (to replace the ones she'd given away, of course).
When jewels and flowers collide
Today – in the spirit of the Queen – Ethiopians wear their best clothes on the New Year – typically a white dress or tunic with vivid embroidered trimmings. Gold bangles and necklaces rustle and jingle throughout the day.
Look at these stunners!
When to celebrate
The festival falls right after the rainy season ends – between September 11th and 12th (this year it falls on the 11th), making it a natural time to collect yellow daisies and long grasses. Children often carry these door to door. Families will spread the grasses on their floors, especially in remote areas, to help bring in the New Year.
Modern Traditions
In the simplest of celebrations people exchange flowers or, in more recent times, cards. But it is the food that cannot be missed. Animals are slaughtered (usually sheep or chicken), injera is cooked (and blessed), and then everyone enjoys lunch with the freshly prepared food.
Families and friends practice Gursha, or the act of feeding each other by hand. While it might feel extrememly personal to put your hand to someone's mouth, Ethiopians would wonder if you hesitate…. Even among strangers, Gursha is a sign of trust no different than a handshake or hug.
Finally, at the end of the meal a traditional coffee ceremony is performed. Green coffee beans are roasted in front of the guests and everyone enjoys no less than the traditional three cups. Learn how to host your own coffee ceremony today!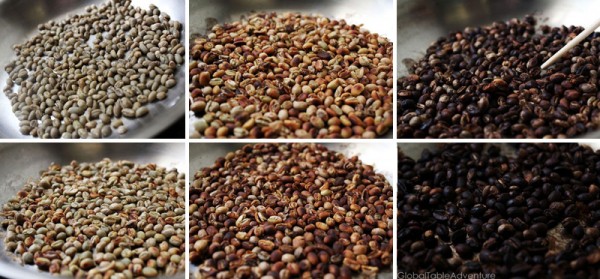 And now… let's eat!
Wot is the main course for the Ethopian New Year, usually made with lamb or chicken.
Today I offer Doro Wat ("doro" means chicken, "wat or "wot" means stew).
PRONOUNCE IT: Doro (rhymes with Zorro) and wet, like the rain.
The recipe is inspired by Marcus Samuelsson's appearance on Martha Stewart and is a hybrid of several traditional recipes.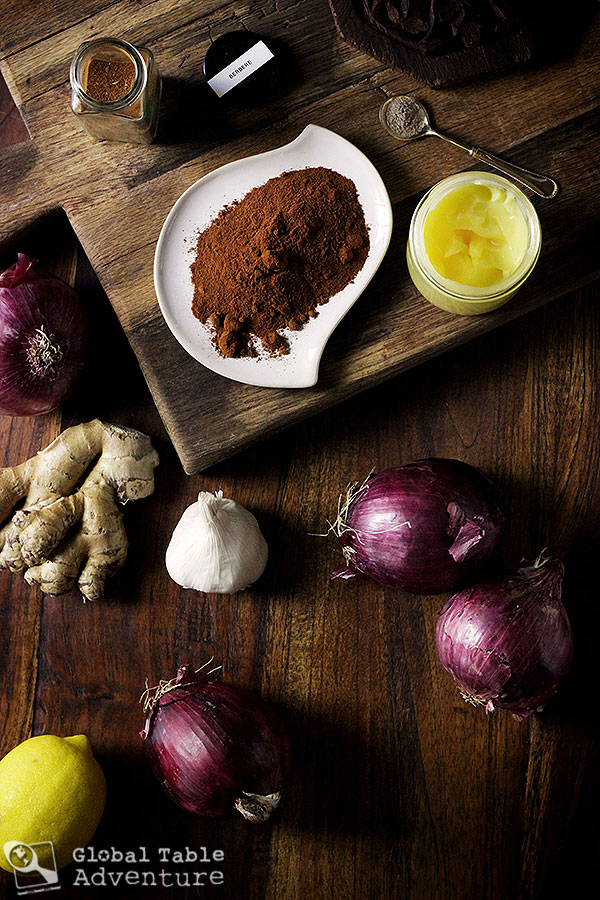 A real wat  uses about a 1/2 cup of berberé, the traditional East African spice blend of chili powder, fenugreek, ginger, cinnamon, and more. The blend is incredibly flavorful and HOT. The dish is nicely balanced, thanks to the brightness of fresh lemon juice and/or yogurt.
Feel free to modify the recipe as you'd like – but if you can handle some heat, I'd recommend leaving the recipe as-is!
Enjoy with our Homemade Injera recipe (whose sour flavor is fantastic with doro wat)… or serve with rice for an easy, non-traditional option.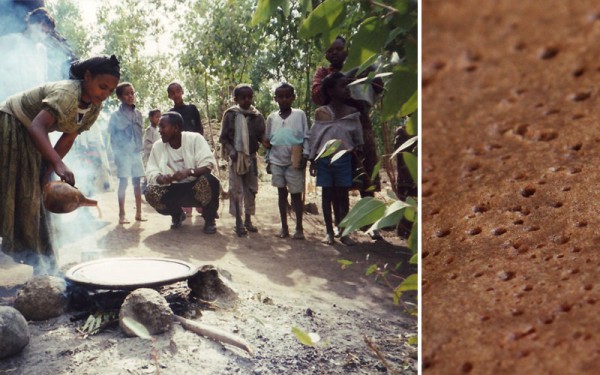 Serves 4-6
Ingredients
4 red onions
3 large cloves crushed garlic
2 teaspoons freshly grated ginger
1/2 cup clarified butter or ghee
1/2 cup homemade berberé
1-2 cups water (as needed)
2 – 2.25 lbs chicken pieces (legs and thighs, skin removed)
salt, to taste (about 1 tablespoon)
Finishing:
4-6 hardboiled eggs
1/4-/2 teaspoon ground cardamom
1 lemon
plain yogurt, as desired
Method:
Onions are the real star of this dish! You need 4 – which is a lot!
The perfect time to pull out your food processor, if you have one.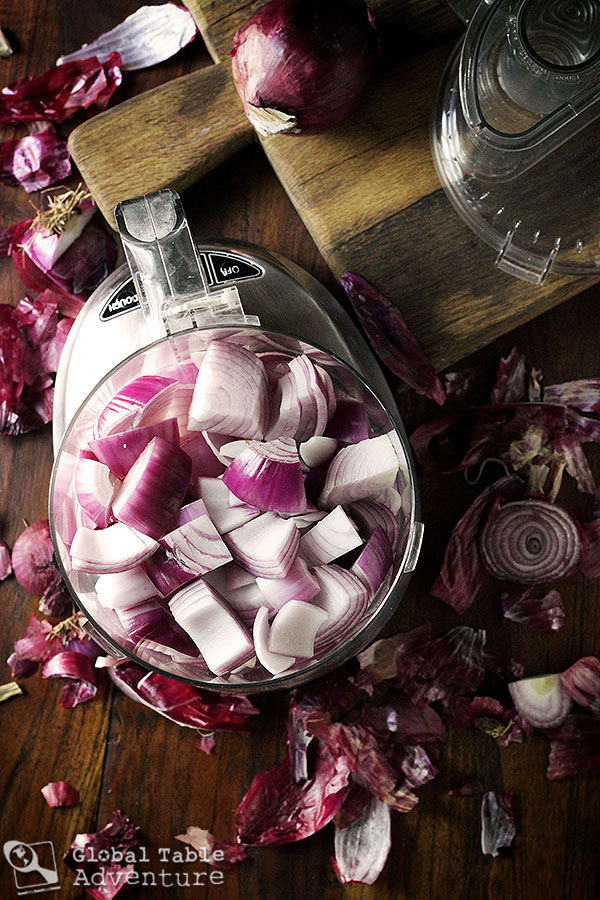 Peel and cut the onions in 1-inch hunks. Toss into the food processor and pulse until finely chopped. Scrape once or twice if needed. Alternatively cut them by hand.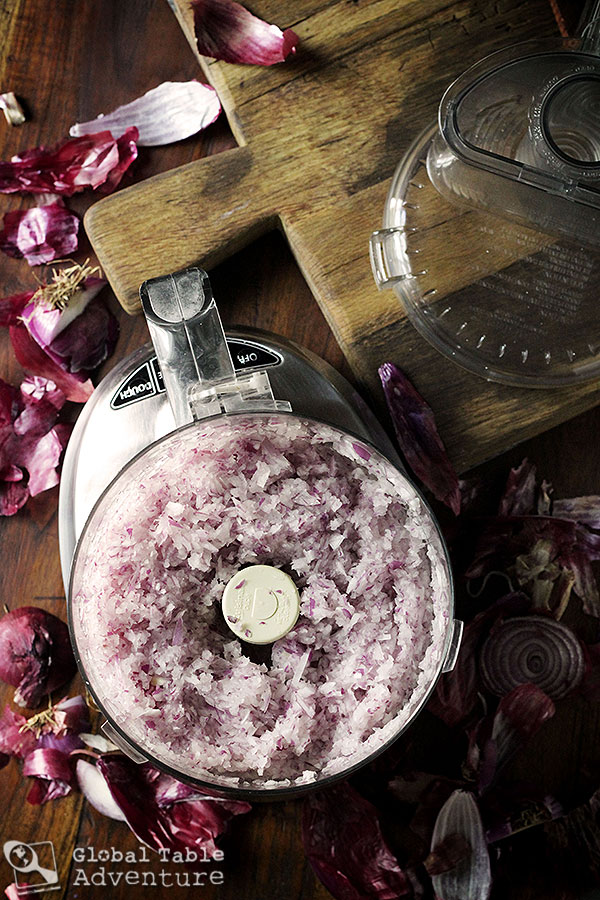 Cook onions in a dry pot over high heat until they start to stick to the pan. This stage should take 20-30 minutes.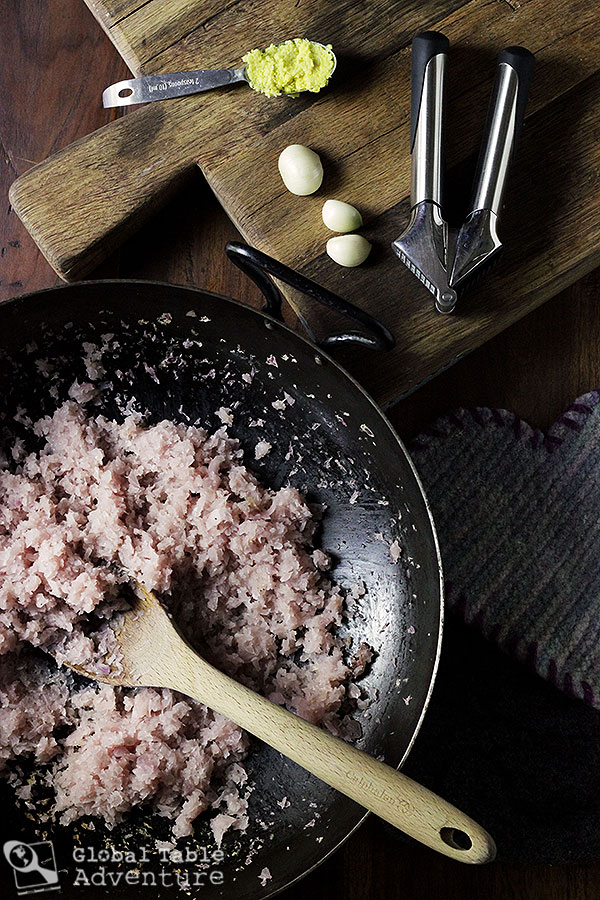 Add the garlic and ginger and cook another 10-15 min until brown. Gradually reduce the heat as necessary to prevent burning.
Here's what the onions looked like when I added the ghee along with the homemade berberé.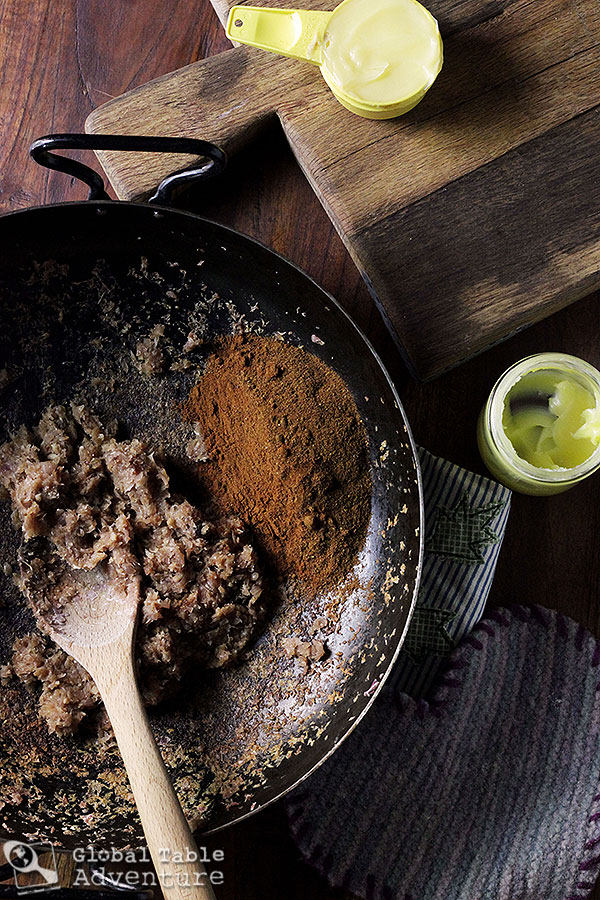 Cook 5 minutes, until the spices bloom in the ghee. It will look like dark chocolate: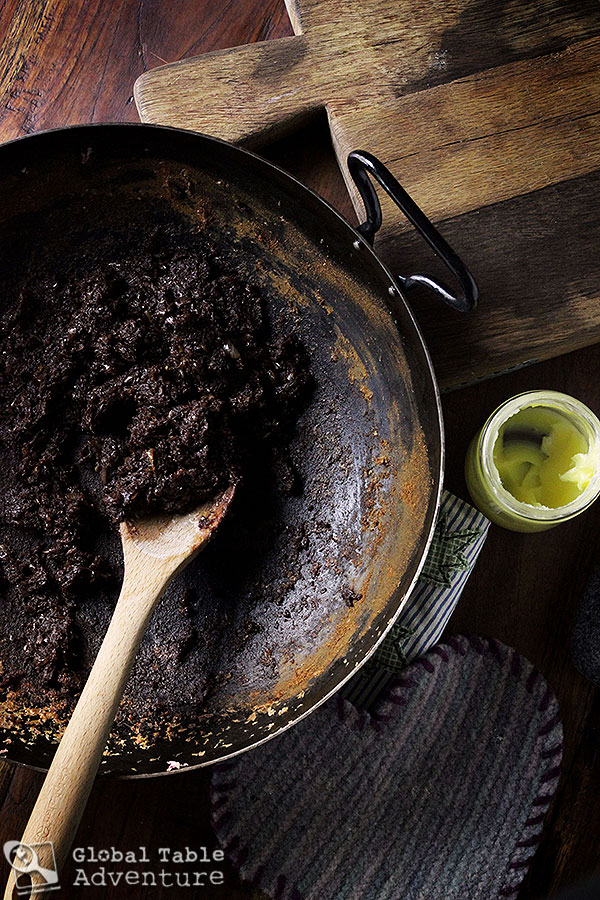 Finally, add the water and chicken.  Cover tightly and simmer gently until tender (a good 45 minutes). Thin with a little water if necessary and stir occasionally to prevent sticking. I used about 1 1/2 cups water total.
While the Wat cooks, hardboil the eggs. Cut decorative wedges in the egg if desired.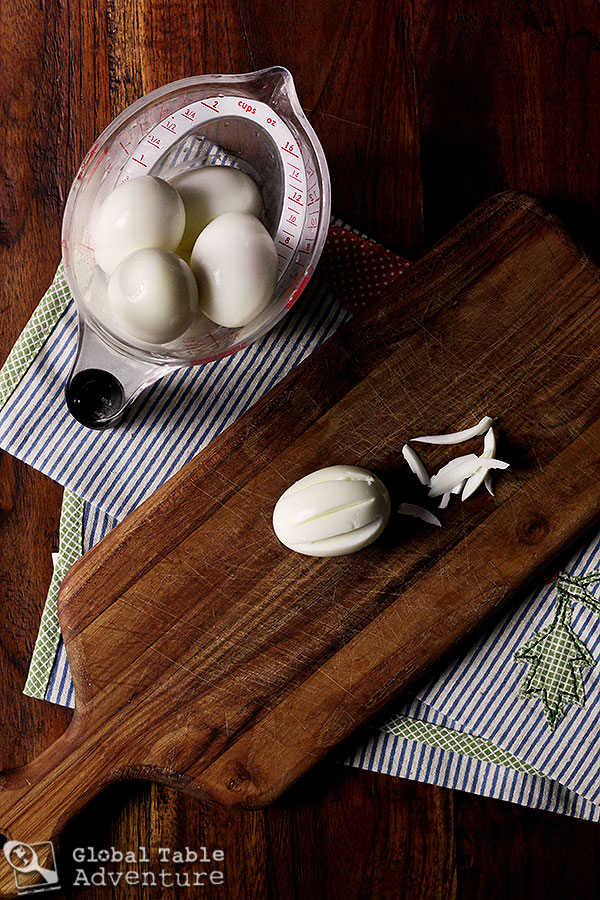 Finish the wat off with a sprinkle of cardamom and half the lemon, juiced. Cut the remaining lemon in wedges and serve on the side. A few spoonfuls of plain yogurt makes for a nice, cooling accompaniment to the spicy stew.
This is one of those messy foods that tastes as good as it doesn't look. There's spice, yes, but there's also complexity from the sweet onion, and richness from the ghee.
Enjoy with your hands, and practice gursha if you'd like!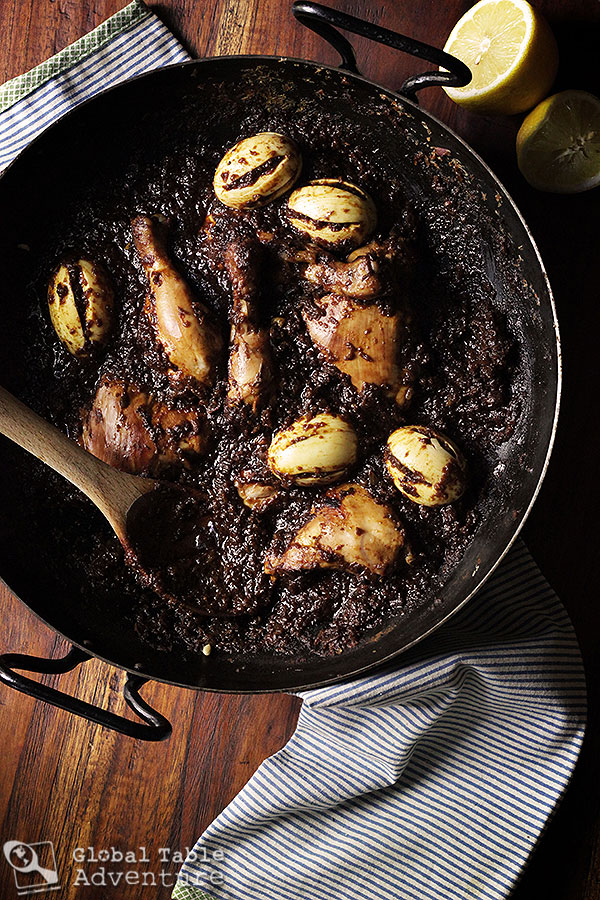 Enjoy and Happy Enkutatash!
P.S. For your little ones who are brave enough to try this dish: try the technique I learned from Bhutan: give them the food, but wipe off the hot stuff first. (In Bhutan mothers will do this for their babies with their mouths!)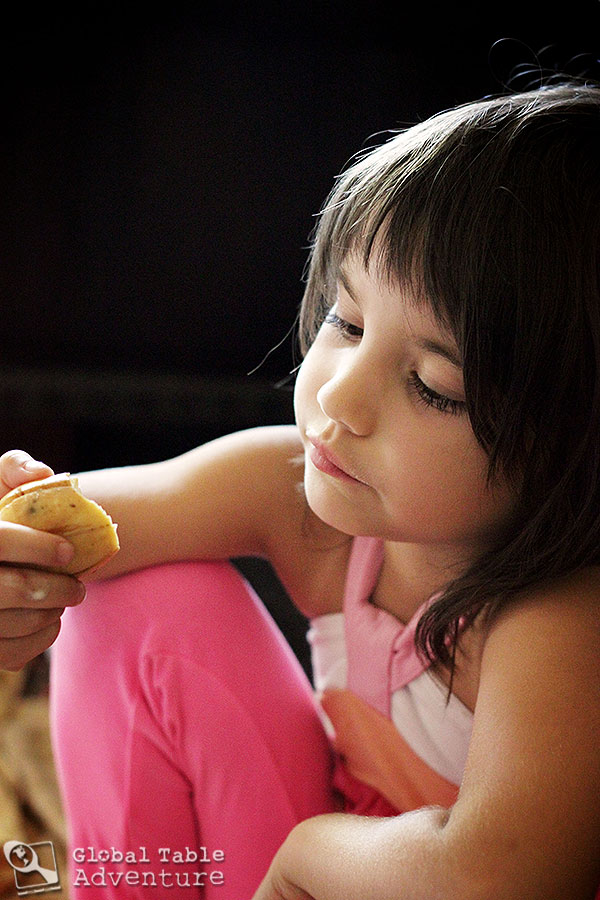 In this case I added the hard-boiled eggs to the sauce, then wiped off most of the onion mixture. The flavor and some heat will still be there (below you can see it stained the egg), but the kiddos can handle this more tame rendition. If the heat is still too much, make sure there's some plain yogurt and milk nearby!