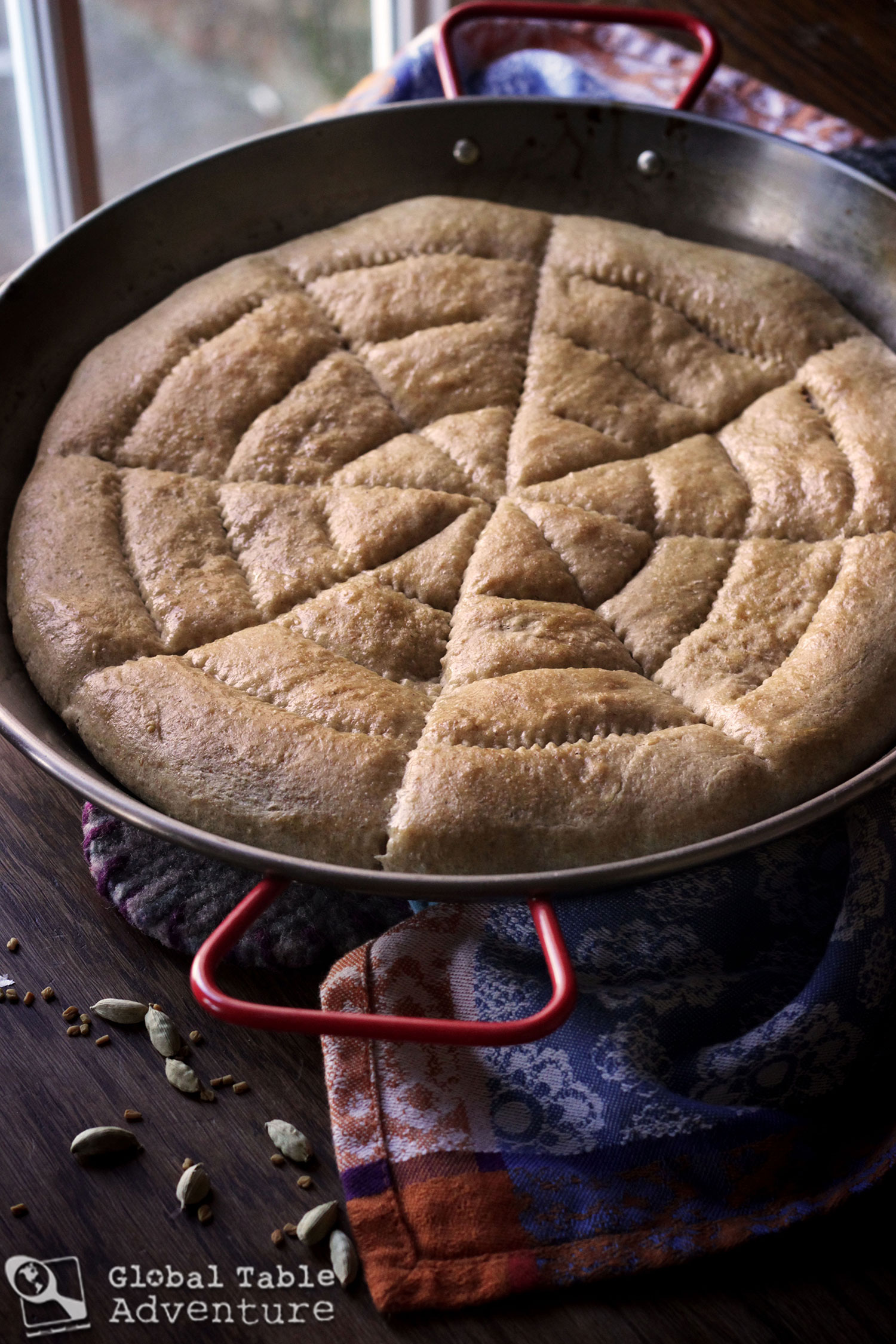 This year Ava and I brought a loaf of Eritrean Hembesha bread to the annual Martin Luther King parade. It's a random sort of thing to bring to a parade, but I'd just pulled batch #3 out of the oven and couldn't stand the thought of the bread cooling down without being able to enjoy a still-steaming, soft wedge.
There are few things better than a steaming-hot piece of homemade bread. 
Hembesha is no exception: the east African bread is soft and earthy with whispers of garlic, coriander, cardamom, and fenugreek. The distinct flavor profile is great with hearty stews or even on the side of scrambled eggs (perfect for a savory brunch). That being said, hembesha is traditionally served in the afternoon with tea and a drizzle of honey and/or tesmi (tesemi is spiced ghee made with ginger, garlic, onions, and berbere)
While original recipes decorate the flat loaves with nails, I've used a ravioli wheel (the idea came from the blog Yesterdish). I learned the hard way – don't just score the dough – cut through 99-100% of the way. By the time the dough rises up and bakes it will seal back together with just a slight perforation (making this bread an easy one to tear apart). If you just lightly score the dough, the marks will disappear completely.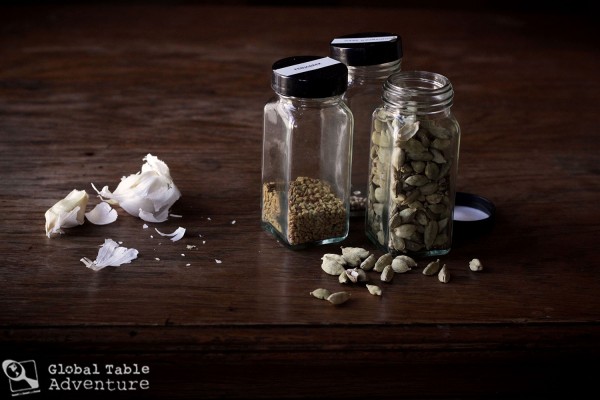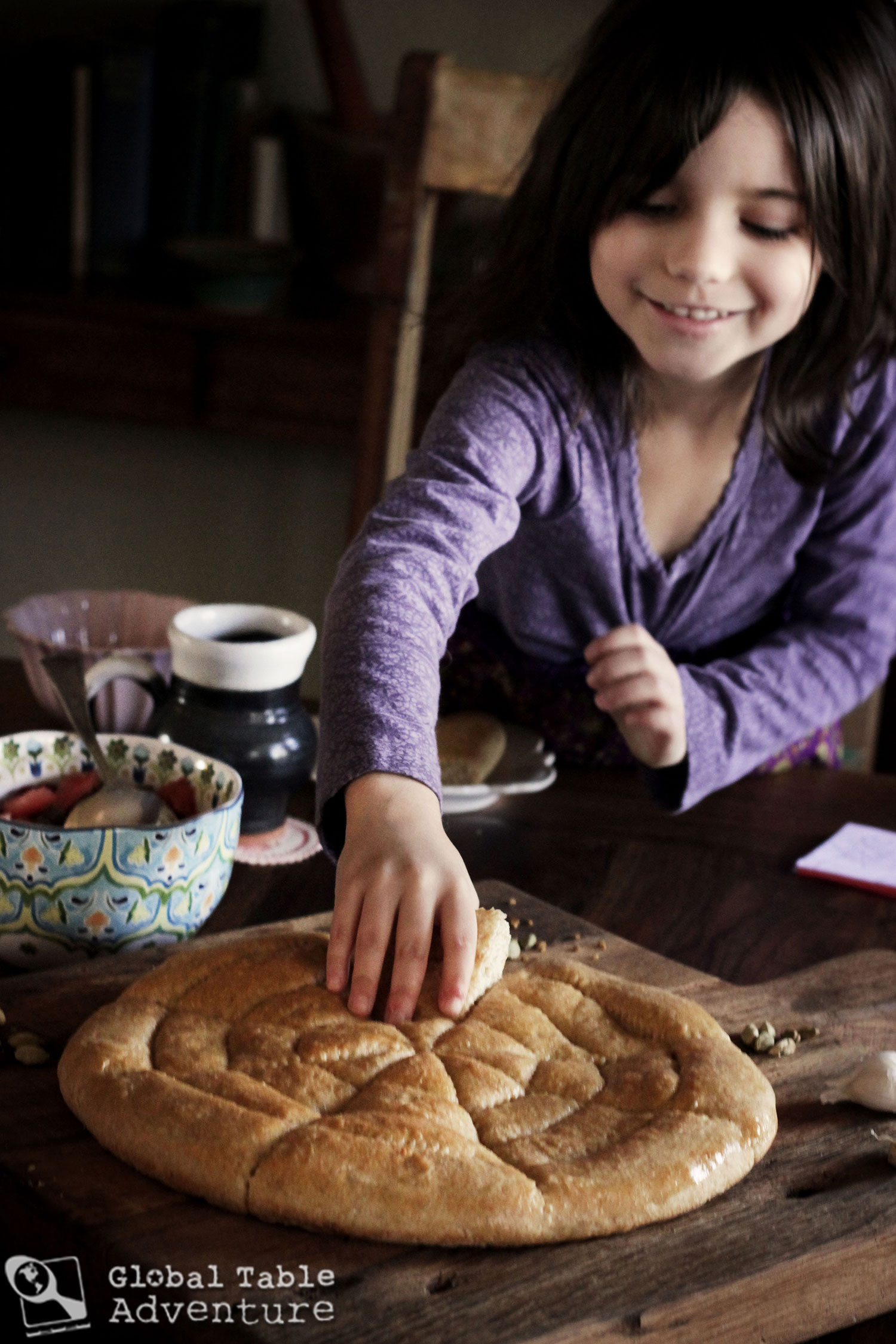 Once baked, Hembesha is fragrant – though not overpowering (mound the spices in the measuring spoons for stronger flavor).  The egg and whole wheat flour add rich wholesome flavor.
I enjoyed a few pieces of the soft crumb from my lawn chair while the Martin Luther King parade marched by. Martin Luther King Day never ceases to choke me up. As always, I left with renewed hope that – one day – all peoples might be treated equally…wherever they're from, whatever their appearance. Food is certainly a great unifier – and why I've kept at this blog for as long as I have. Bringing the best foods from around the world to my table – and sharing them with you – helps us feel closer to our global neighbors and brings us closer to a more peaceful, loving world.
Today, in the spirit of Martin Luther King's message of inclusion, we're celebrating Eritrea – one small step in celebrating the entire world…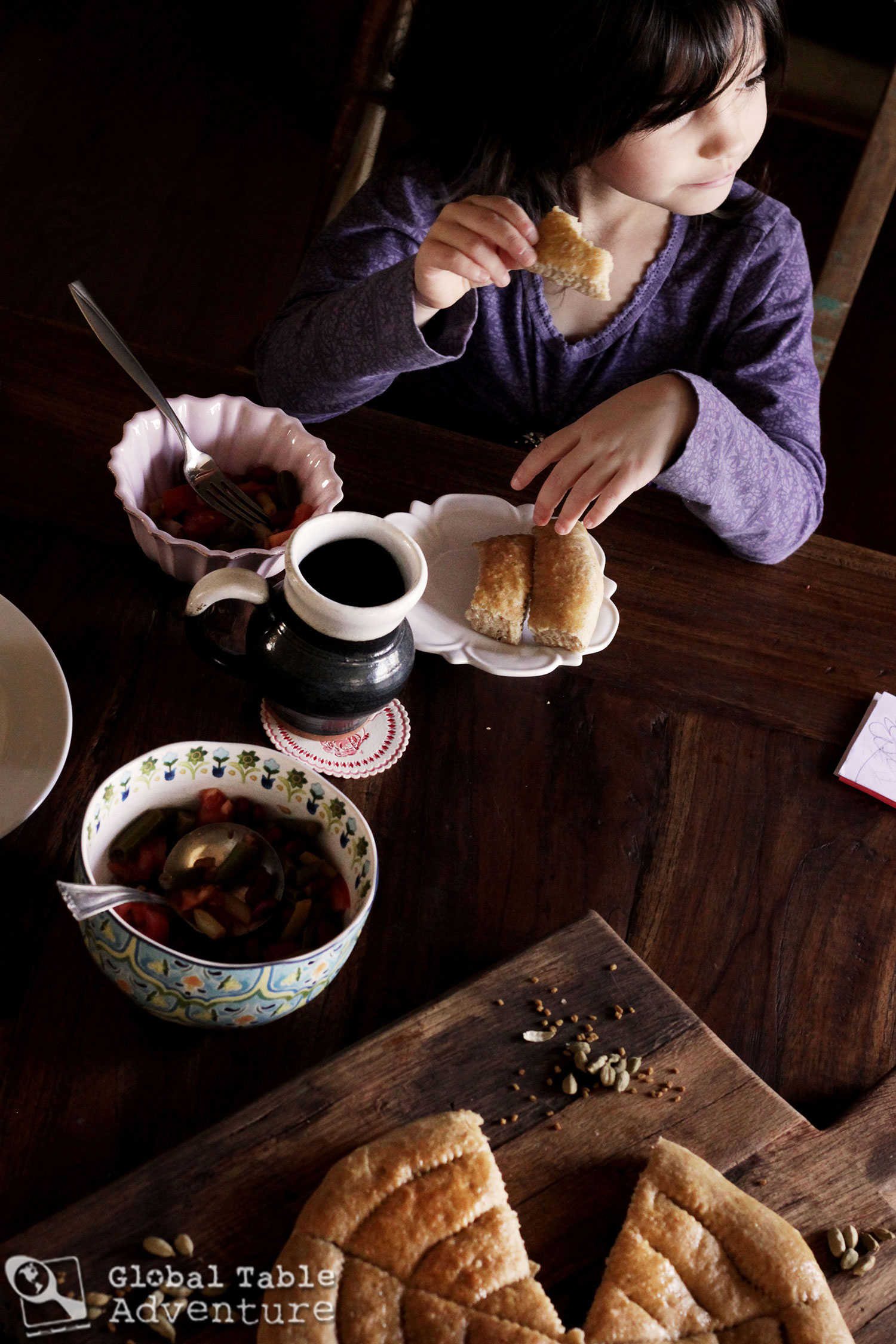 NOTE: Want something sweet from Eritrea instead? This hembesha recipe with cumin and raisins.
Makes one 12″ hembesha
Ingredients:
1 1/2 cups all-purpose flour
1/2 cup whole wheat flour
2 tsp instant dry yeast
1 tsp ground fenugreek
1 tsp ground coriander
1 tsp ground cardamom
1 tsp salt
1-2 cloves garlic, crushed
1 Tbsp vegetable oil
1/2 cup warm water (start with a little less)
1 large egg
additional vegetable oil, for cooking
Method:
Let's go to beautiful Eritrea…
First, knead all ingredients together until smooth except for the last bit of vegetable oil for cooking.
Cover and let rise in a warm spot for 45 minutes- 1 hour or until doubled in size.
(Instant dry yeast works very quickly – but if you only have regular yeast this will take about 1 1/2 hours)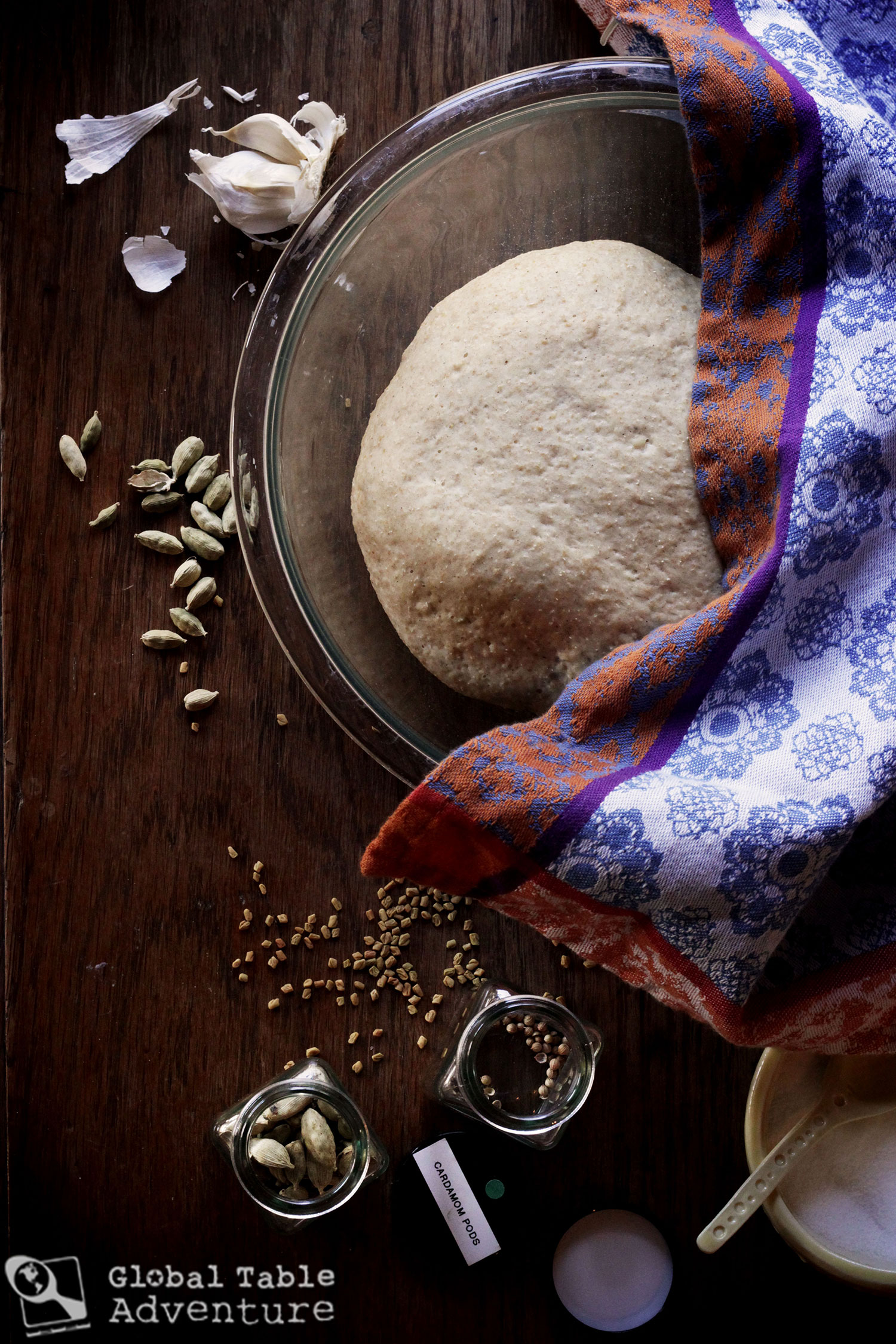 Roll out thinly to fill an oiled, 12-inch oven-safe pan or skillet – about 1/3″ thick. I used a paella pan.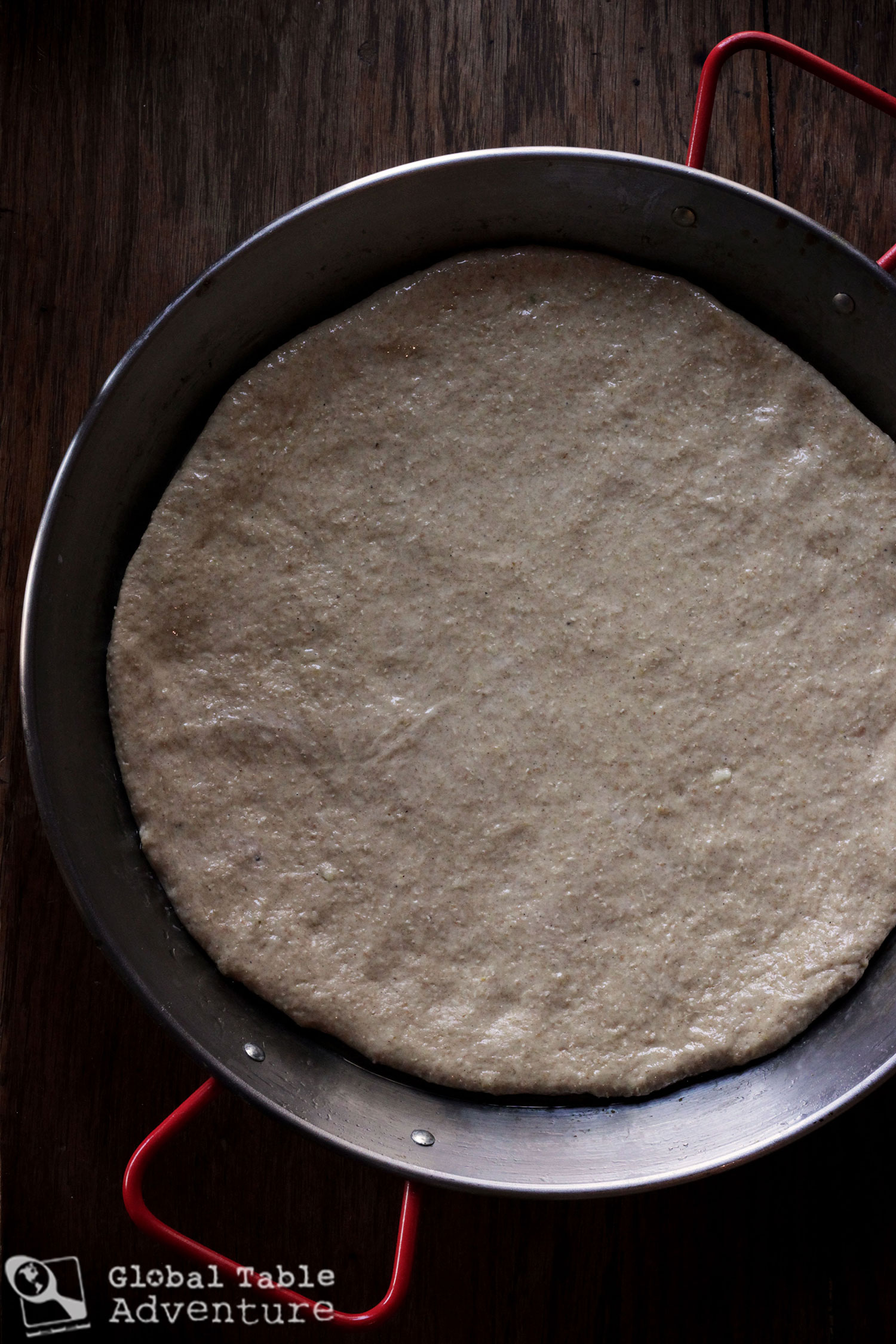 Immediately cut with a ravioli wheel – first cut in wedges like a pizza, then cut series of lines. If the dough pulls with the cutter, try cutting towards the center.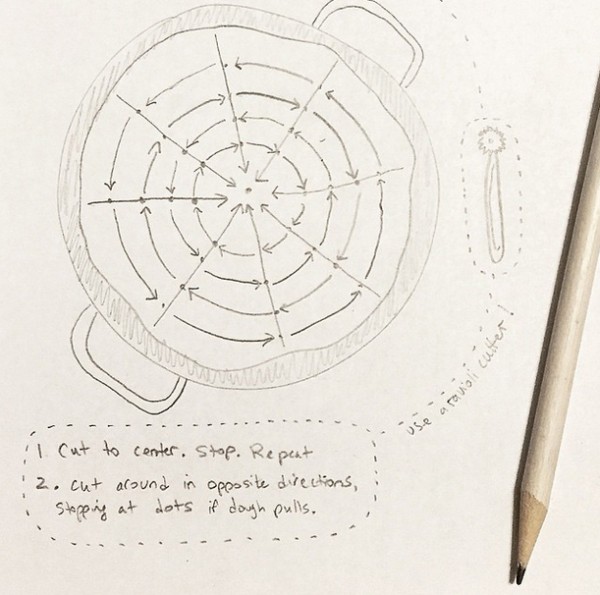 Be sure to cut 99-100% of the way through – this is the only way your cuts won't "disappear" once baked.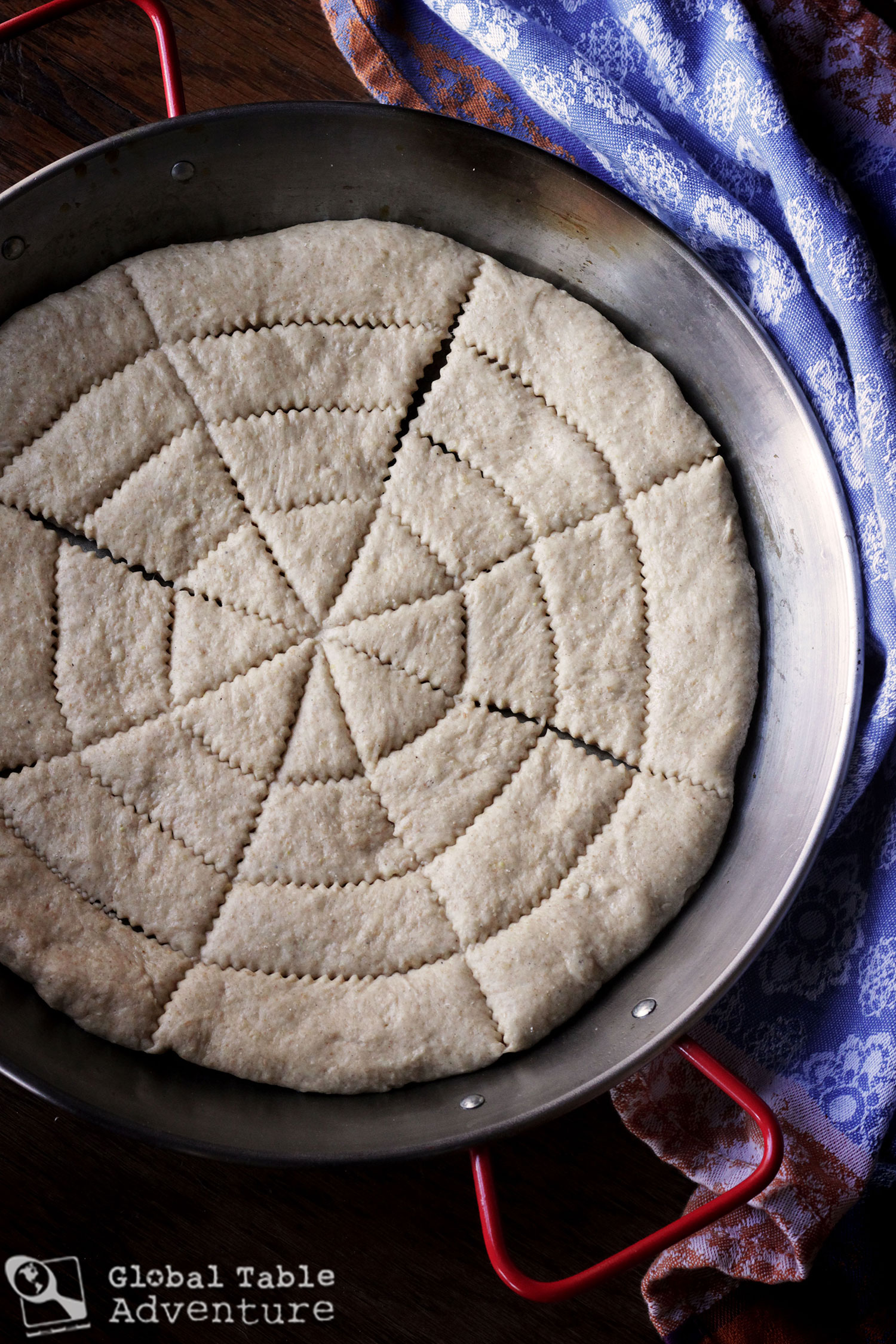 Let rise 30-45 minutes – until puffed and doubled in size. Meanwhile, preheat the oven to 350F.
After this second rise, the dough will look like this: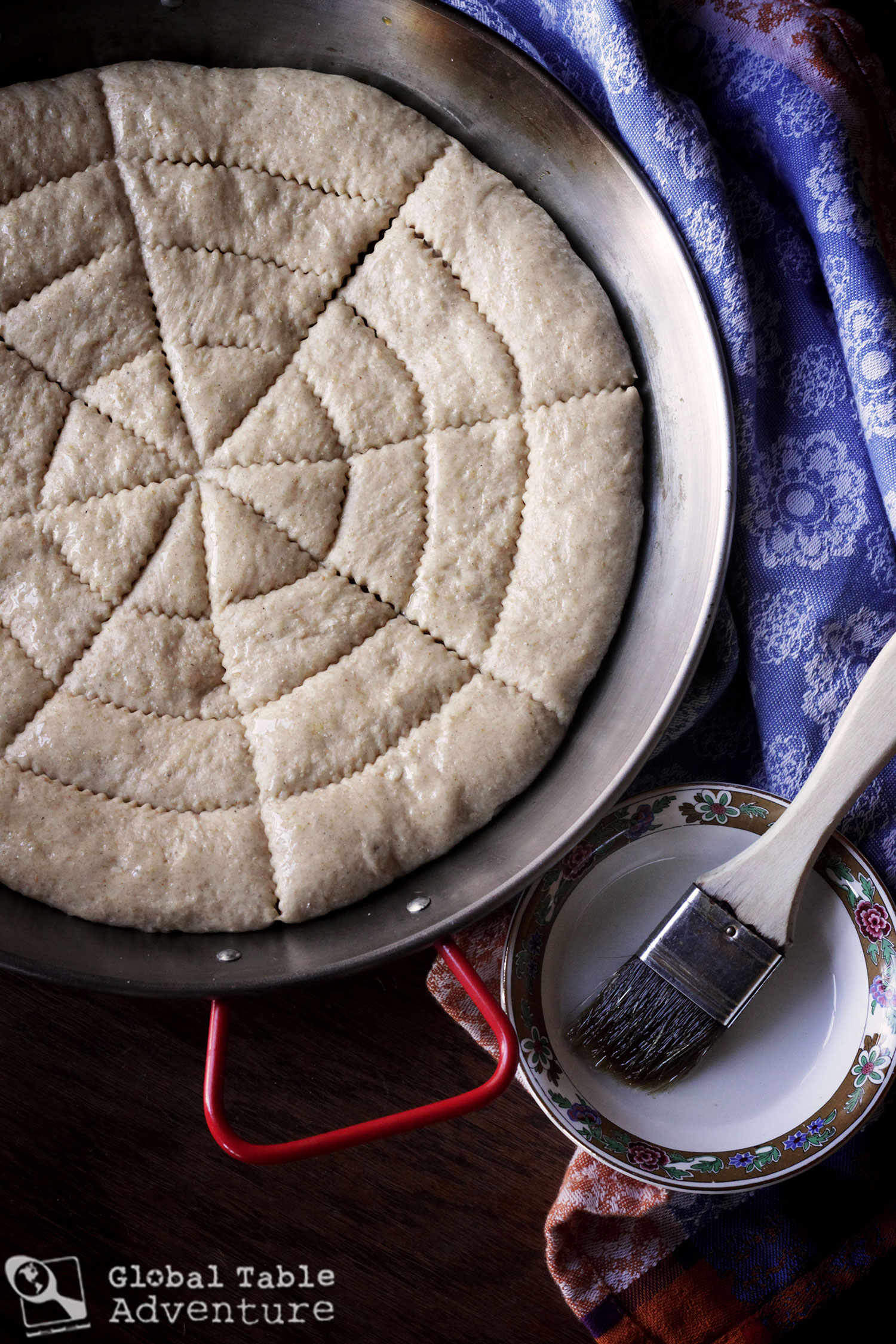 Brush with oil and and bake 15-20 minutes.
NOTE: Eritreans also like to cook their Hembesha on the stovetop. Try over medium-low (flipping once after 10 minutes)- this works better with a heavy bottom pan as it cooks more evenly.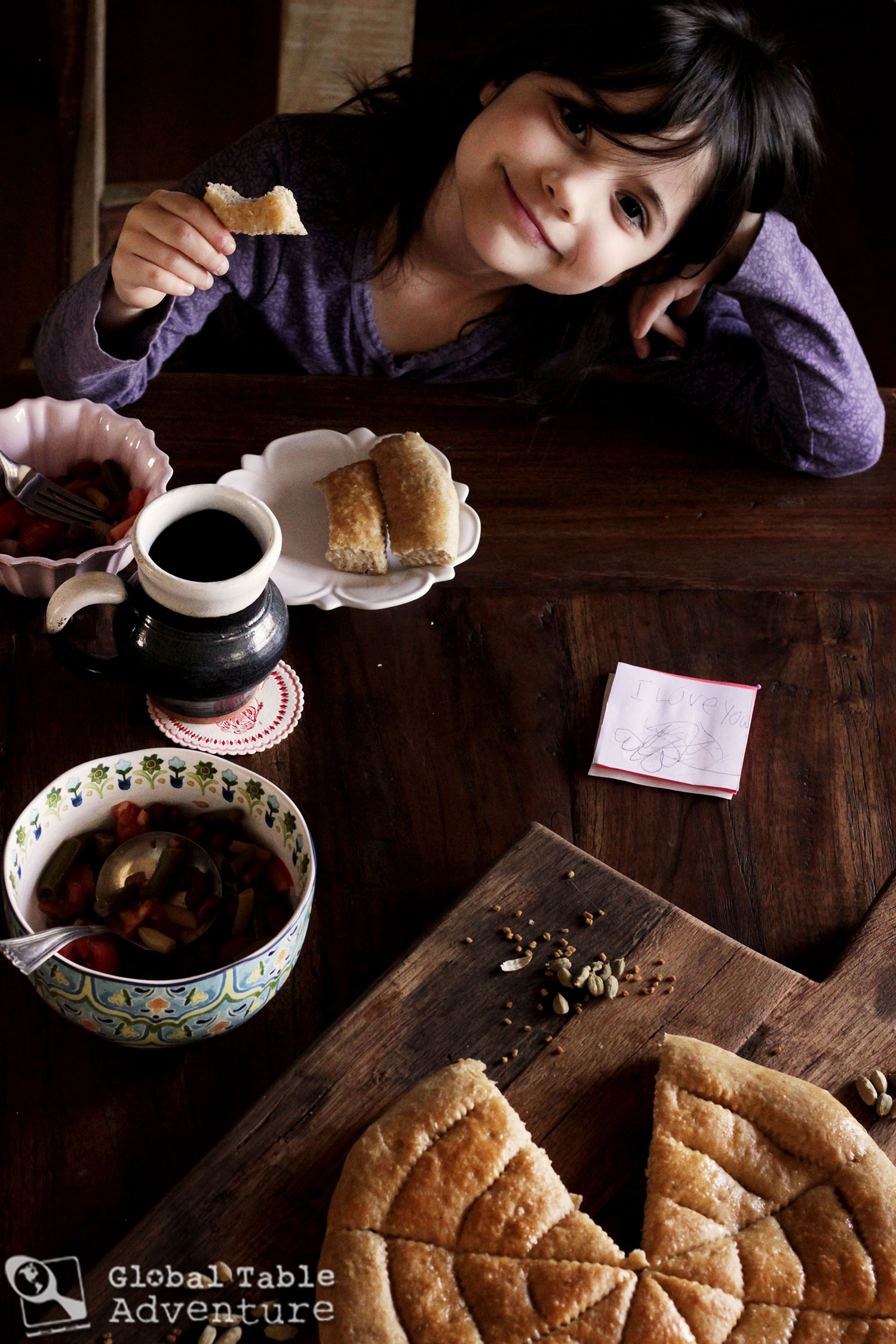 Either way, brush with oil again and serve a sunny sort of afternoon…
… with a nice, hot cuppa tea and some honey or ghee mixed with berbere.
xxoo