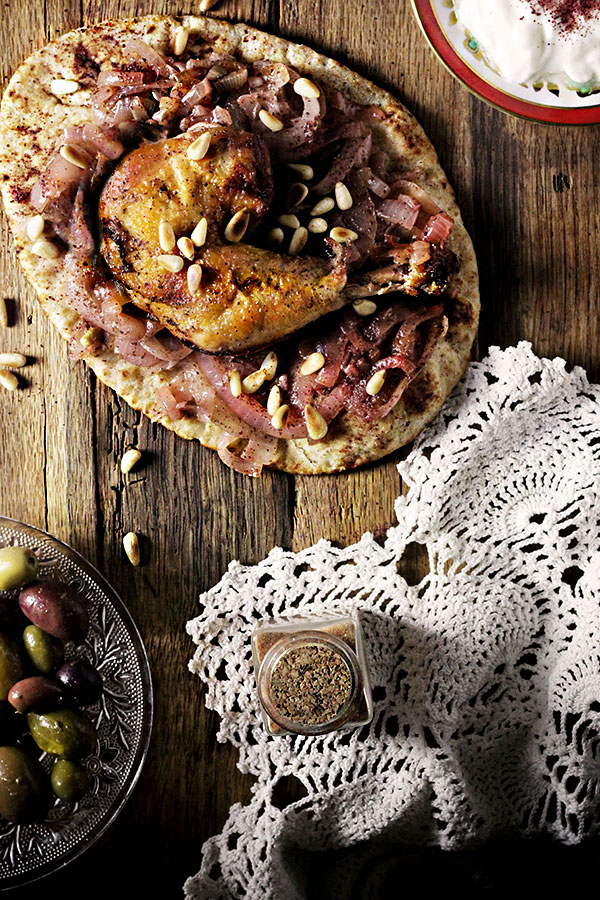 Within Palestine's hotly contested territories there is one thing everyone can agree on: Musakhan. This simple dish doesn't shout. It's flavors don't battle for dominance. No, Musakhan is a quiet meal – a layered preparation of chicken, onion softened with sumac, and doughy pieces of taboon bread. And yet this unassuming dish earned a Guinness World Record in 2010 in the city of Ramallah.
Why a Guinness World Record Matters
The clout of earning a Guinness World Record often remains limited to the feat itself – at most a symbol of egregious excess (consider the world's largest pancake, for example – nearly 50 feet across with no other purpose than to … eat). But for Palestinians, the world's largest Musakhan was a show of pride and honor far beyond simple bragging rights. Making the Musakhan was a critical show of cultural pride during a time of great crisis. More than 40 Palestinian chefs united efforts to cook and assemble the 4 meter loaf. The finished dish weighed nearly 3,000 pounds, including 1,100+ pounds of onion, 550+ pounds of flour, 370 pounds of olive oil, and 150+ pounds of almond (pine nuts may also be used)! To further bolster the cultural emphasis, many of the Musakhan's ingredients were sourced within Palestine. Indeed, Palestine's former Prime Minister, Salam Fayad, says: "This great achievement completely depended on Palestinian products, mainly olive oil." (Source)
According to Jamal Aruri, the man who organized the feat:
"Musakhan is a popular, completely Palestinian food, made in Palestinian villages [...] We seek through this festival to distinguish musakhan as part of Palestinian culture." (

Source

)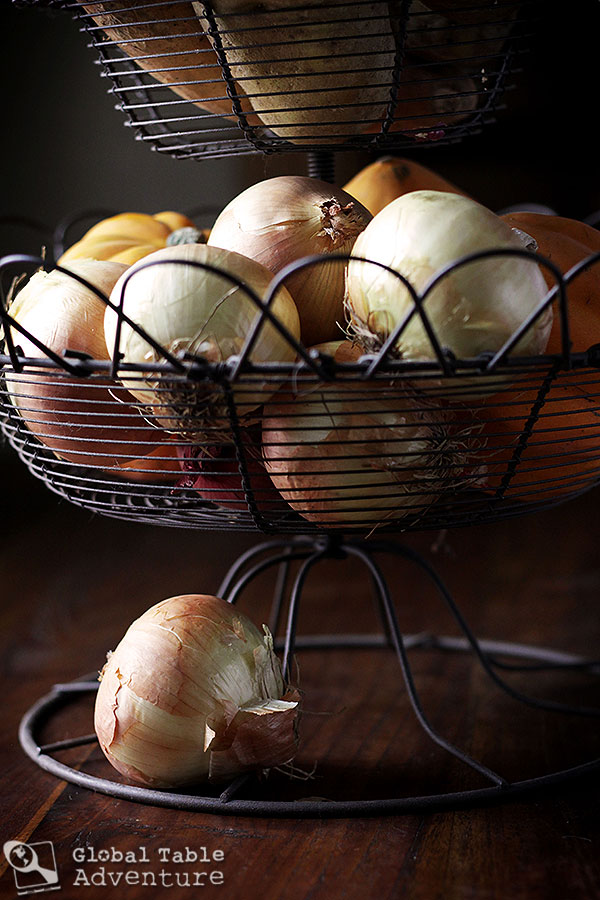 While even these men veer into political discussion when talking about this dish, renowned Palestinian cookbook author,
Rawia Bishara
, has wise words when it comes to food and politics:
I think cooking is politics. What I'm trying to do here—I wish everybody practiced politics like that. It's spreading the culture. It's showing the real face of us and who we are and what we are all about. And I think this is politics. My politics. I think when you speak politics, talk politics directly, you always create a challenge and other opinions. It's different from accepting the other. Food is taste. They taste, they accept, and it goes from there. It's as simple as that. I think this is the best way. (

Source

)
Many ways, one dish
There are many ways to make the dish – often the bread and onions are stacked like lasagna before being piled high with chicken. In other cases, as taught by Clifford A. Wright, the onion and chicken are wrapped in a thin bread like lavash, the end result more like gift wrap. But today I'm making Rawia Bishara's rendition, which affectionately dubs "Chicken Pizza." While onion and the lemony smack of ground sumac should be the dominant flavors, sometimes folks add a pinch of saffron and a dusting of cardamom, lending the dish an ethereal quality. In any case, the onions take on a lovely pink-purple from the sumac. I take Bishara's advice and used naan here.
Serve with plain yogurt and olives.
Serves 3-6
Ingredients:
3 whole chicken legs, extra fat trimmed
1/4 cup olive oil
4 onions, sliced thinly
2 Tbsp ground sumac, plus 1 teaspoon for garnish
pinch saffron (optional)
pinch cardamom (optional)
salt & pepper
3-6 pieces of taboon or naan
1/4 pine nuts, toasted
Method:
In a large, heavy-bottomed pot, brown the chicken on both sides in olive oil over medium-high – about 8 minutes per side. Use a splatter guard or, if you don't have one, simply use less olive oil (add the rest with the other ingredients).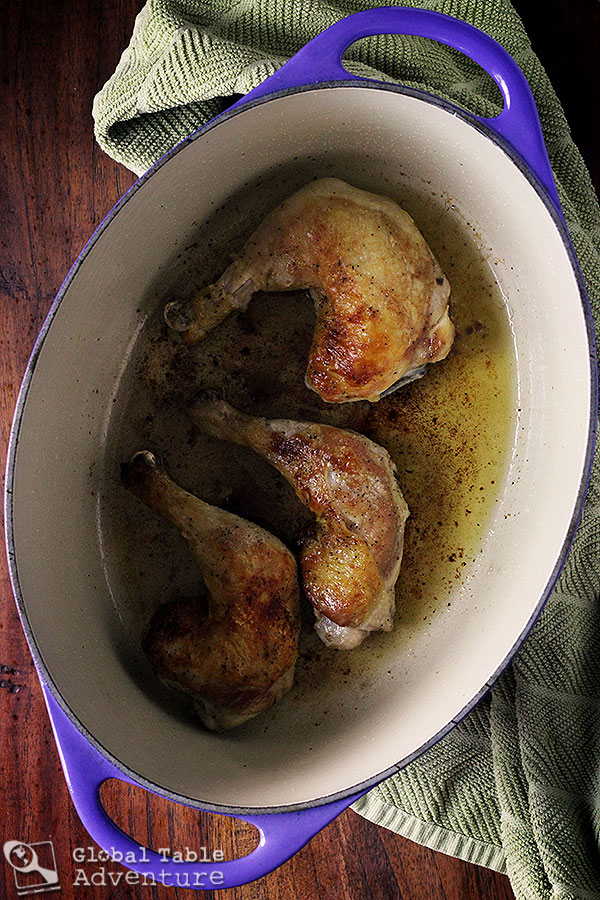 Remove chicken and set aside on a platter. Add the sliced onions and cook until reduced by half.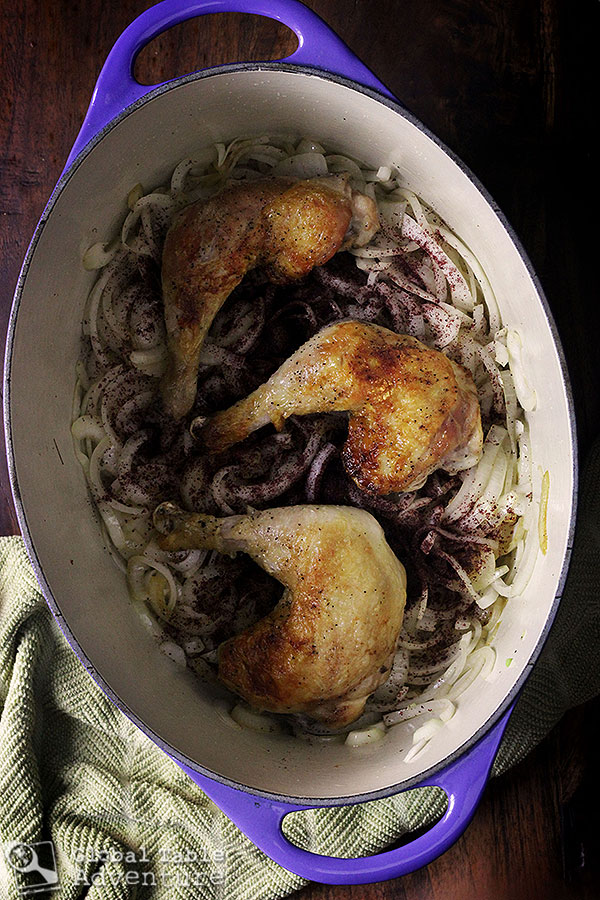 Return the chicken to the pot along with the sumac and seasoning.
Loosely cover and continue cooking until the chicken is falling off the bone and the onions are very soft and browning – about 45 minutes. Stir occasionally and reduce heat as necessary to avoid burning the onions.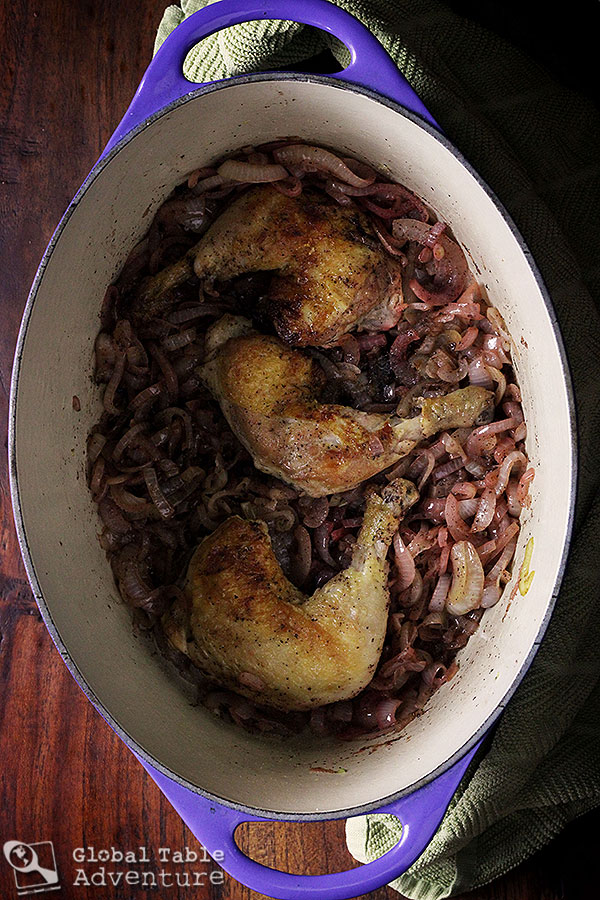 While it's cooking, imagine walking through the bustling streets of Ramallah, where the Guinness World Record was attempted.
To serve, brush the flatbread with olive oil, top with onion mixture and chicken.
TIP: For lighter portions, cut the whole leg at the joint and divide the leg and thigh pieces over 6 breads instead of 3.
Garnish with more sumac. Broil for a moment to heat through.
Serve with plain yogurt and olives.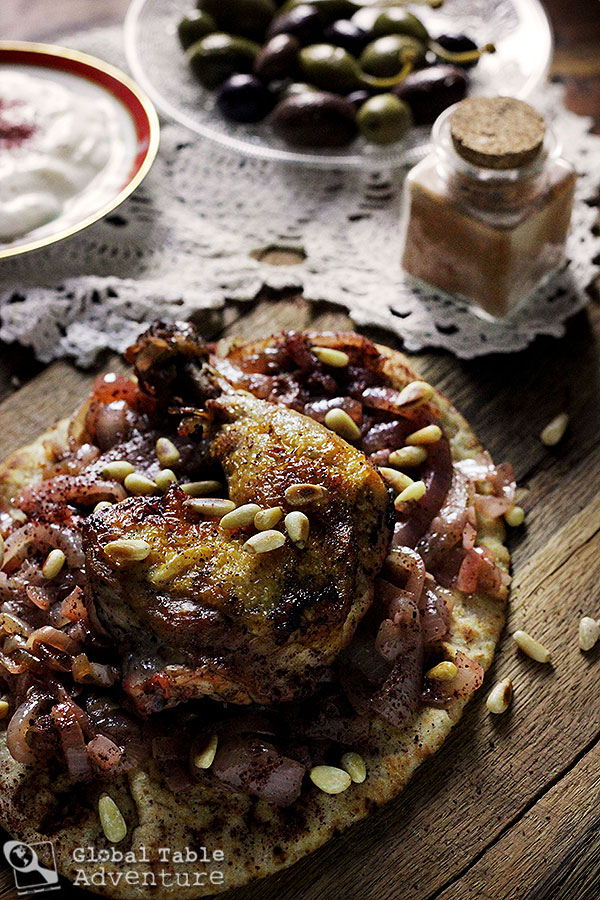 Enjoy with love and hope in your heart.
P.S. I invite you to let me know about other Palestinian food I should try! Even though I do lots of research for every post, it's tough knowing about all the great food in any one part of the world.