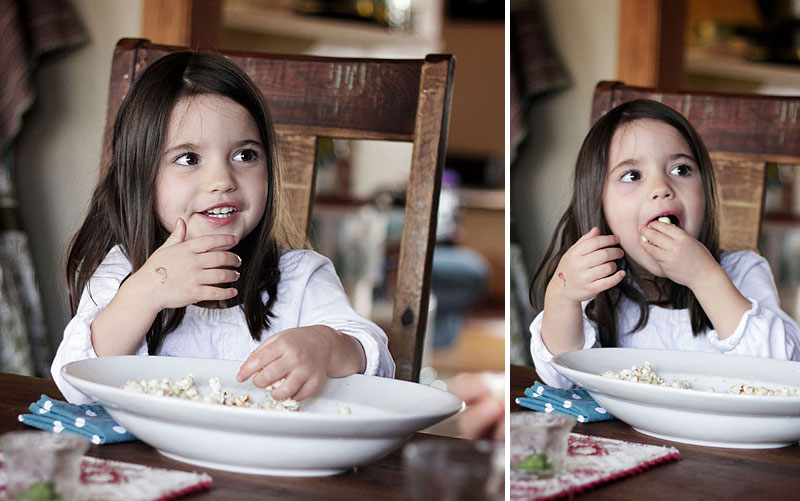 Hi Friends!
This week we're trying something new with our weekly video, combining Ava's Corner with a brief review from me. I'm a little camera shy, so I thought I'd do something a little silly, like sit in a green chair, in my kitchen. Just because.
Special thanks to my dear husband, Keith (a.k.a. Mr. Picky), for editing our video, as always.
I'd love to hear what you think of this new format in the comments.
Enjoy:
xo Sasha & family
THE FOOD
Okra & Eggplant Stew [Recipe]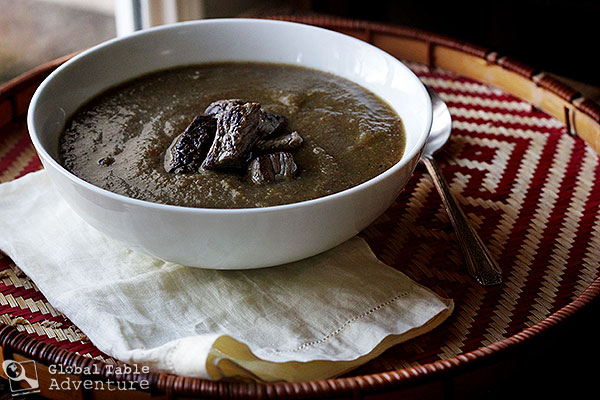 What I liked most about this dish:
While the slick, slippery okra tested me, Mr. Picky and Ava weren't even phased. In fact, they loved it (they didn't even know it was in there, actually), which probably had as much to do with the fact that I didn't make a big fuss (or any fuss, really) about the dish. I simply put it on the table, matter-of-factly.
For Ava, the trick was to give her a piece of the meat ahead of time to nibble, with just a bit of the sauce on it… that was she knew that she'd like it. At the table, I ladled her serving over rice, so it wasn't as saucy/goopy. At the end of the day, we all liked this stew; the flavor is good and feels like a vegetable gravy (or, as Keith so eloquently called it "cooked vegetable smoothie.").
What I liked least about this dish:
Keith suggested cutting the meat more finely, so that he could get a piece in every bite. This is a good idea, although it may make it harder to get a good sear early on. If you try this, I'd suggest browning the meat in batches. Another possibility is to go heavier on the meat, so that there's a higher ratio to the stew.
West African Peanut Bars | Kanya [Recipe]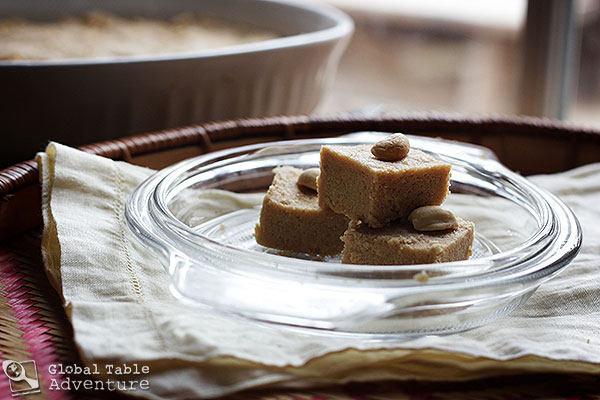 What I liked most about this dish:
Oh, sweet, glorious delight… These kanya are grand. There's nothing nicer than a treat that's 1) a conversation starter 2) made with only three ingredients, and 3) naturally gluten free and vegan. The fact that Keith ate almost the entire platter by himself in one afternoon? That just adds to the stellar review. As for Ava, she was a huge fan of serving us with her teeny, tiny spatula. (What good are play things, if you can't really use them from time to time?)
What I liked least about this dish:
The texture of Kanya is a bit crunchy, thanks to the toasted rice flour, but I think it's nice. To help wash them down, take a tip from the locals and sip a cup of tea or strong coffee.
Ava ate two and then declared she didn't care for them. What do I think really happened?
I'm 99% sure she did what any kid would do when faced with good, peanuty treats – she gave herself a belly ache.
Aw.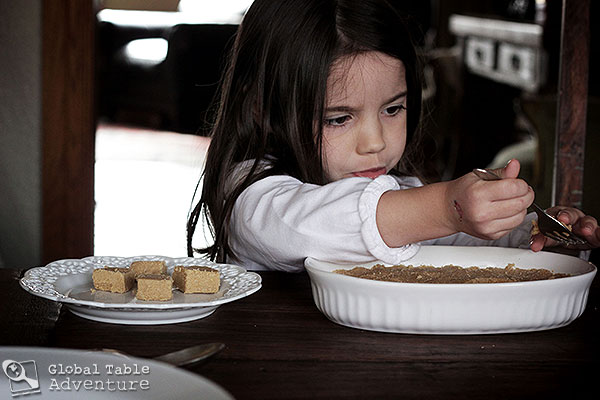 GIVEAWAY WINNER
Congratulations to Marina, who says:
I would picnic somewhere in Switzerland, in the mountains, on the wonderful green pastures, with sounds of cow bells ringing in the background. It's so peaceful, and perfect for a nice picnic with my fiance.

We would probably eat sandwiches, with some gourmet things thrown into them. And for drink, we would have the best ice tea ever, it's some swiss brand, herb mixture and seriously tastes like the nectar of gods.

Oh, and definitely some brownies would be in there 
Please contact me by February 11, 2013 to claim your prize!