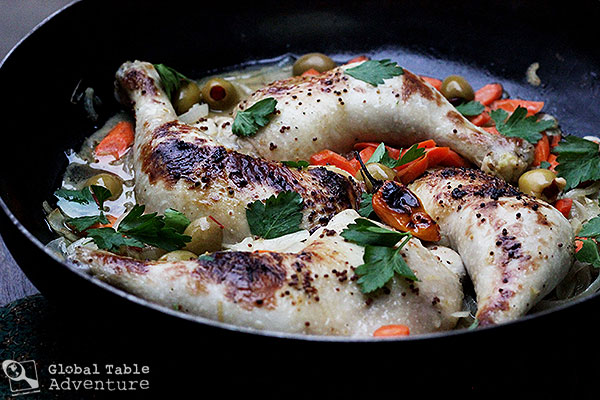 In Senegal's villages, which dot lazily between scrubby fields, life is slower. People gather barefoot on stoops, pounding millet or boiling rice. Talk and dance reverberate in rhythm with hide-covered drums, around outdoor fires, as though there were nothing more to do with the day than to live. There's a popular proverb:
Yarude seesa haɗtaa yettaade*
or
Going slowly does not prevent you from arriving.
The words make me wince a little. Even with this Adventure I'm often in a hurry, rushing out the door, arms too full to hold Ava's hands, or trying to slap a meager dinner on the table conjured up halfheartedly bagged, frozen helpers, all the while mind racing with checklists. Slowing down, I've realized, is a privilege and luxury that I often don't indulge in.
I could take a lesson from slow, easy Senegal.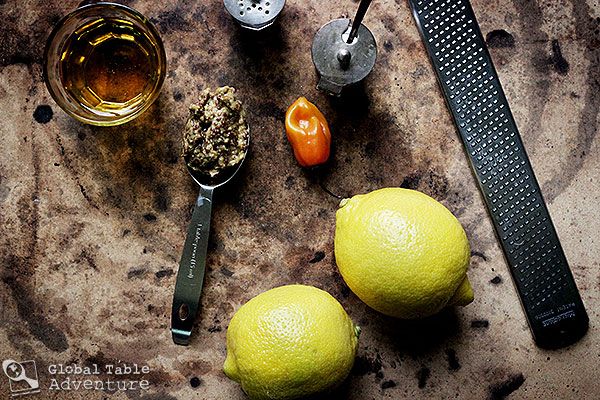 Chicken Yassa, a favorite stewed chicken dish in Senegal, simmers with onion and lemon juice quite leisurely until the flavors unite to create a tender, falling-off-the-bone, mouthwatering delight. Yassa can be found all over West Africa and there are dozens (hundreds!) of recipes to be found. My adaptation relies on the wisdom within The Africa Cookbook by Jessica B Harris (an amazing panorama of African cooking which makes a great addition to any kitchen bookshelf).
Most pure, traditional renditions of Yassa provide only a bit of habenero and slippery peanut oil for dimension along with the bright onion and lemon marinade, but modern Senegal has also stirred mustard, olives, and carrots into the pot, perhaps in a nod to the influence of old Portuguese settlements. The occasional pop of a briny olive adds add richness and a simple sort of excitement to this one pot dish.
The meal is best served with rice, perhaps a few slivers of tomato,and will gladly suffer some candlelight if a campfire is out of reach in the hustle and bustle of things.
Because if one thing encourages me to slow down, it's the soothing flicker of soft flames.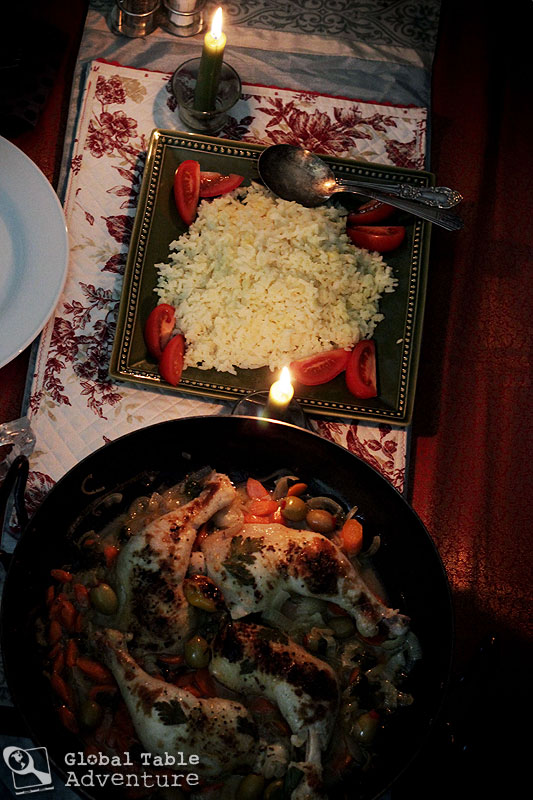 Note: For best flavor, you'll want to toss the chicken in the marinade the night before (or at the very least 1-2 hours before cooking).
Serves 4
Ingredients:
4 whole chicken legs
4 small onions, sliced thinly
2 Tbsp peanut oil
6 small carrots, peeled and sliced thinly
12 pimento-stuffed olives
1/2 cup water or chicken broth
Marinade
1 lemon, zested
1/4 cup fresh squeezed lemon juice (about 1 large lemon)
1 Tbsp spicy mustard
habenero, to taste
1/3 cup peanut oil
salt & pepper
Garnish
fresh parsley
Method:
Head to the market and find the heaviest, plumpest lemon you can, some long carrots, and all the rest with follow.
The night before the meal, mix together the marinade (lemon juice, mustard, habenero, peanut oil, salt, and pepper) and pour into a gallon sized zip lock bag with the chicken. Refrigerate and let the flavors mingle at least 2 hours or preferably overnight, turning the bag once or twice.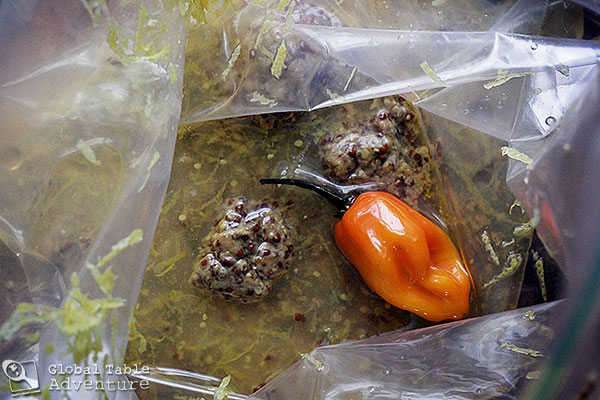 Spend the rest of your day slowly living.
The next day, fry onions in peanut oil until softened and beginning to caramelize.  Never mind the tears. That's just the onion saying hello.
Note: Senegalese will often cook their onions for several hours over extremely low heat. They don't really take on color, but slowly release their sugars and make for unctuous flavor. I cooked mine for about 20 minutes and, while the recipe was still grand, if you have the time, you might try the slow road.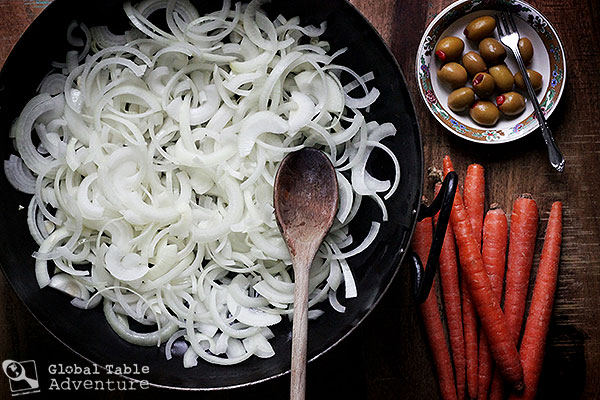 Meanwhile place the chicken and habenero on a lined baking sheet and set under the broiler until browned and beginning to crackle (you could also pan fry it or, in the summer, feel free to grill it). This took 8-10 minutes for me, but it will depend on the distance from your pan to the broiler… keep an eye on it). When browned to your liking, set it aside and keep warm.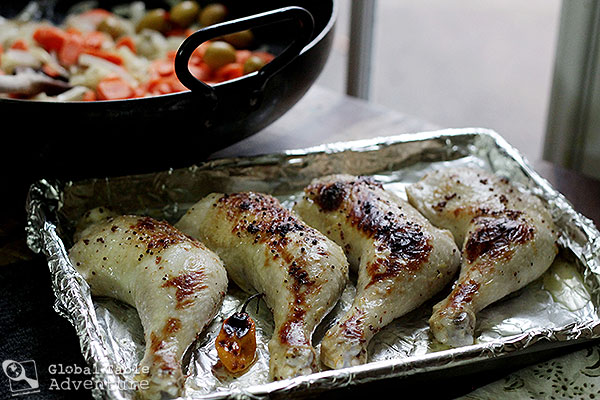 Next, add in the carrots, olives, and broth and marinade juices to the onion mixture. Season with salt and pepper. Stir and cook for a few minutes to start softening the carrots.
Nestle the browned chicken into the onion bed and the habenero, if more heat is desired. Cover and simmer for about 45 minutes to an hour, or until the chicken is cooked through and the carrots are tender.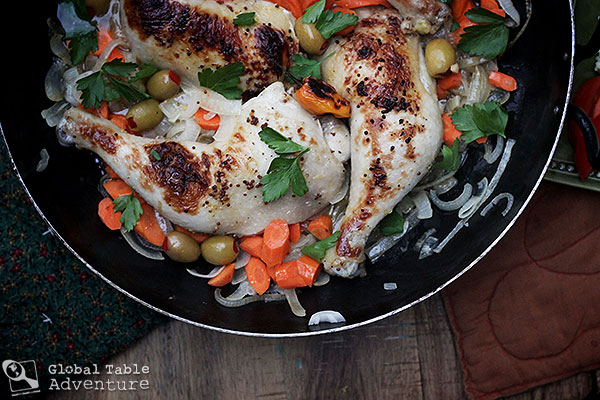 Keep simmering until the chicken starts to pull away from the bones for the most tender dish. Right before serving, sprinkle with parsley. Spoon each serving over a mound of rice, including a healthy dose of onion, broth, and salty nuggets of olive and sweet carrot.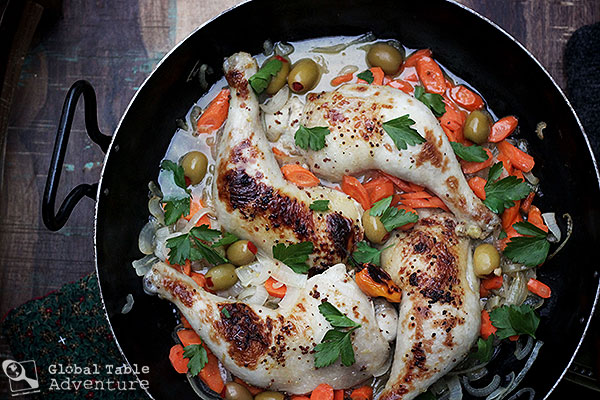 And slow down a little while you eat it, too.
Cheers, my friends.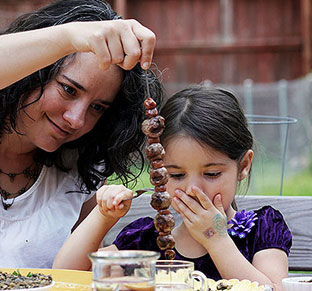 Hungry for more?
Be notified when National Geographic releases my memoir.
Simply fill in your details below.