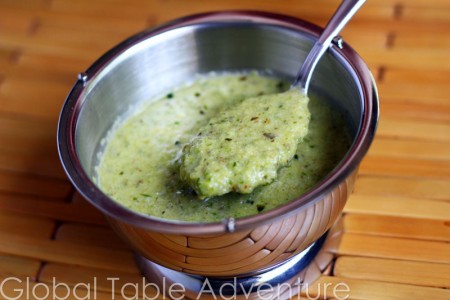 Pili-Pili (also called Piripiri) is the kind of hot sauce that puts hair on a man's chest. And, possibly, even a woman's. This basic African condiment was introduced by the Portuguese in the 1500's.
To give you an idea of how intense pili-pili is, imagine this true story:
Positioned just outside the second room, where we would shake the president's hand, sat a vast array of spicy delicacies, accompanied by bowls of pili-pili sauce for dipping. For the uninitiated, Pili-pili (pronounced "pee-lee pee-lee") is a sauce made from a fiery pepper similar but more potent than a jalepeno. Crushed into an eye watering hot sauce, pili-pili is not for the weak and timid.

The majority of assembled dignitaries, faint with hunger, attacked the assortment of peppery cocktail treats with gusto. However, immediately before their moment of glory with Mobutu [the president], most had mouths heartily stuffed with spicy finger foods laced with pili-pili – a deadly combination. Television cameras caught diplomat after diplomat walking the red carpet, mouths burning into a smile, and eyes watering. Far from emotional tears of pleasure at meeting Mobutu and shaking his hand, most of these tears derived from people in pain from pili-pili.

Excerpt from A Crocodile in the Pool: Tales of a diplomat's wife in the Congo by Janet Ruddock
Makes 1/3 cup
Pili-pili recipes abound. Make your version according to personal preference, with whatever hot peppers look tastiest at your farmer's market or in your summer garden. While fire-engine hot chili peppers are traditional, I've made a very mild version for our meal, utilizing poblano and jalapeño peppers. In my version the lemon and garlic dominate – heat is simply a light background note.
To make this recipe a little spicier, leave the jalapeño seeds in. Also, substitute a couple of Anaheim, habenero or your favorite potent pepper for the Poblano. Then you'll surely experience the tears Ruddock wrote about.
And, if you do, I wish you the best of luck, my friend.
Ingredients:
1 lemon, juiced
4 cloves garlic, crushed
1-2 Tbsp vegetable oil
salt
1 poblano pepper
1 jalapeño
Method:
Add all ingredients to the cup of an immersion blender (or a small food processor). Puree until smooth. Cook for a few minutes in a frying pan, or serve raw. I served mine raw and it was delightful.
My poblanos needed picking so badly. You can't tell in this picture, but it was starting to turn red!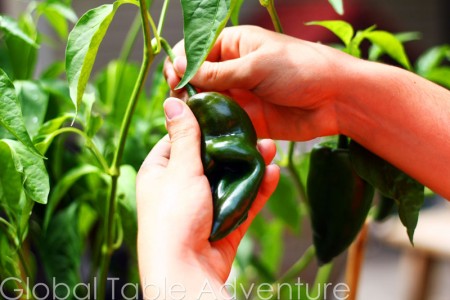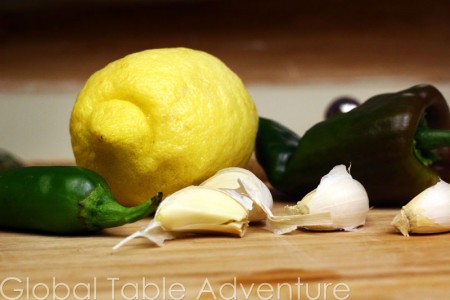 A juicy lemon will be heavy for its size. This was possibly the juiciest lemon ever. It took me to my happy place.
If yours lemon is dry, you might juice another half.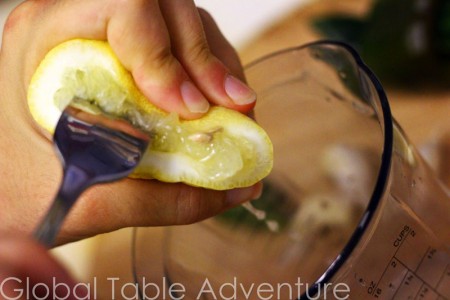 One day I will write an ode to garlic.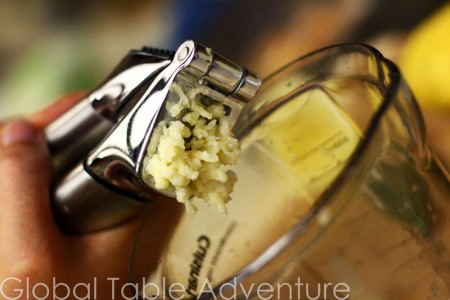 I removed the jalapeño seeds to keep my pili-pili mild. You can leave them in!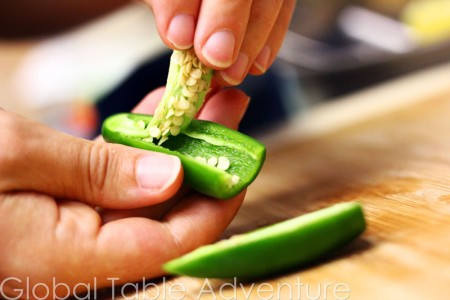 Loosely chopping the peppers helps them process better with the immersion blender.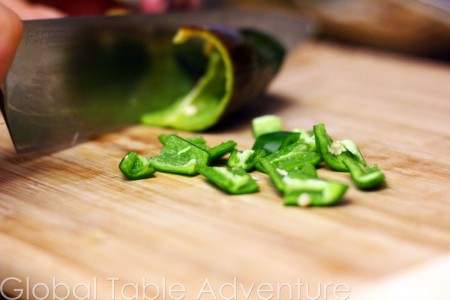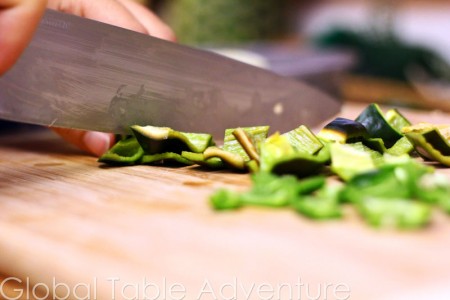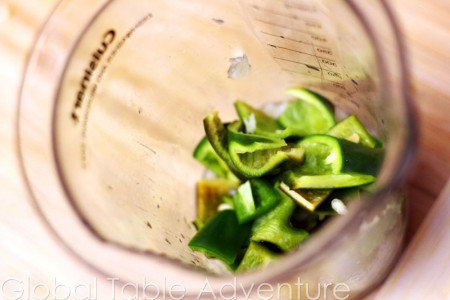 Salt not only adds flavor, but it helps break down the ingredients. Traditionally, pili-pili would be made with a mortal and pestle.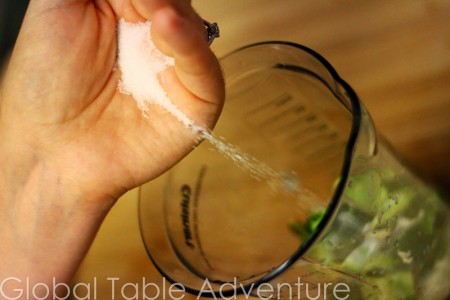 A little vegetable oil binds.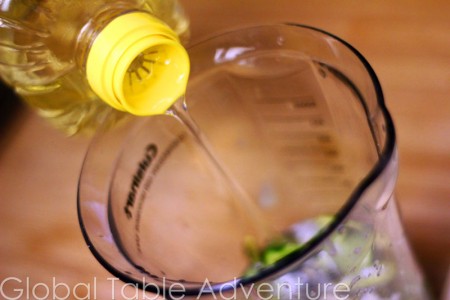 Hey, look! My apron matches!
I couldn't have planned that if I tried.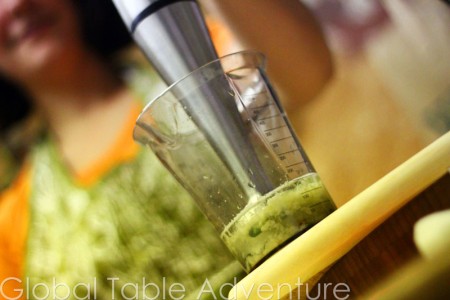 I'll admit that my version should probably be spicier, but I am in love with how it came out.
The strong lemon flavor is perfect with the fish on this week's Burundian menu.
I'll definitely be making this again.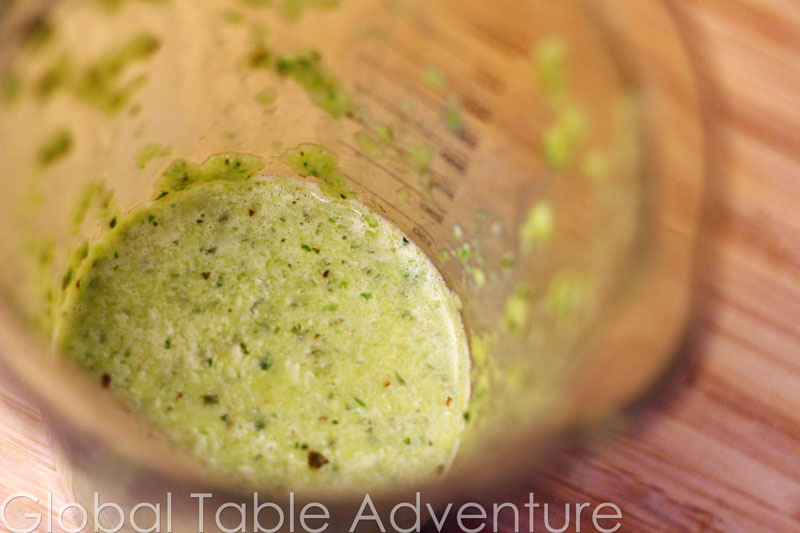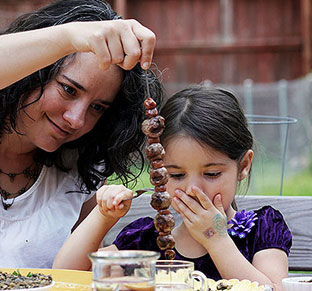 Hungry for more?
Be notified when National Geographic releases my memoir.
Simply fill in your details below.